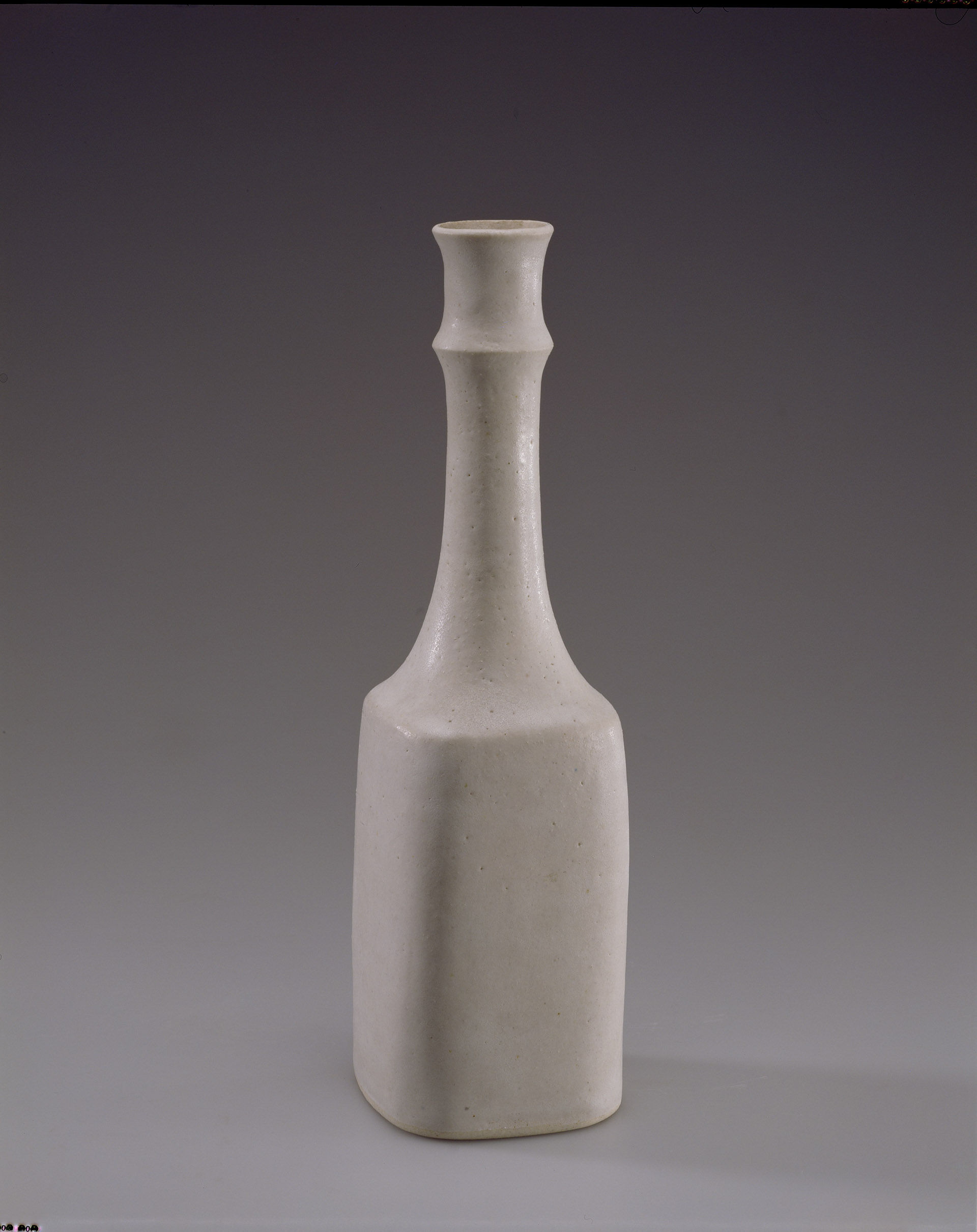 Bottle, Lucie Rie
Bob and Lisa Sainsbury purchased this little bottle from their friend Lucie Rie in 1976. They were regular visitors to her studio, where she both worked and lived, in a quiet cobbled mews just north of the Bayswater Road in London. Lucie had moved there in 1939, within a year of her arrival in Britain from her family home in Nazi-dominated Vienna. From it she produced a steady stream of marvellous pots as different from the heavy earthenware then being produced by British artist potters as a delicate white wine is from a turbid English stout.
This particular piece, quiet and dignified with its elegant circular neck rising from a squared body, cannot truthfully be called typical of Lucie's work. But that is because her pots are so varied that no single one could possibly typify the range and ravishing beauty of her work. She made massive jars, as big as her kiln could accommodate, and others so small – she called them her 'dumplings' – that you could cradle them in your hand.
This bottle has a matt, slightly pitted, white glaze and Lucie certainly took a particular delight in white as a colour. She habitually dressed in elegant white trouser suits and once produced an entire exhibition of white pots. But she also rejoiced in colour – uranium yellow, vivid blue, electric green and a golden glaze so thick and luscious that she often deliberately allowed it to trickle down a bowl from its rim. At the beginning of her career she supplied stores with near-identical tea-sets and coffee pots, but once freed from the commercial requirement for uniformity, she seldom if ever produced two pots that were exactly the same.
—
David Attenborough
Facts & figures
Bottle, 1976, Lucie Rie (b. 1902). England. Robert and Lisa Sainsbury Collection. UEA 412.
Porcelain, white glaze. h. 22.8 cm. Acquired 1976.
Other collection highlights