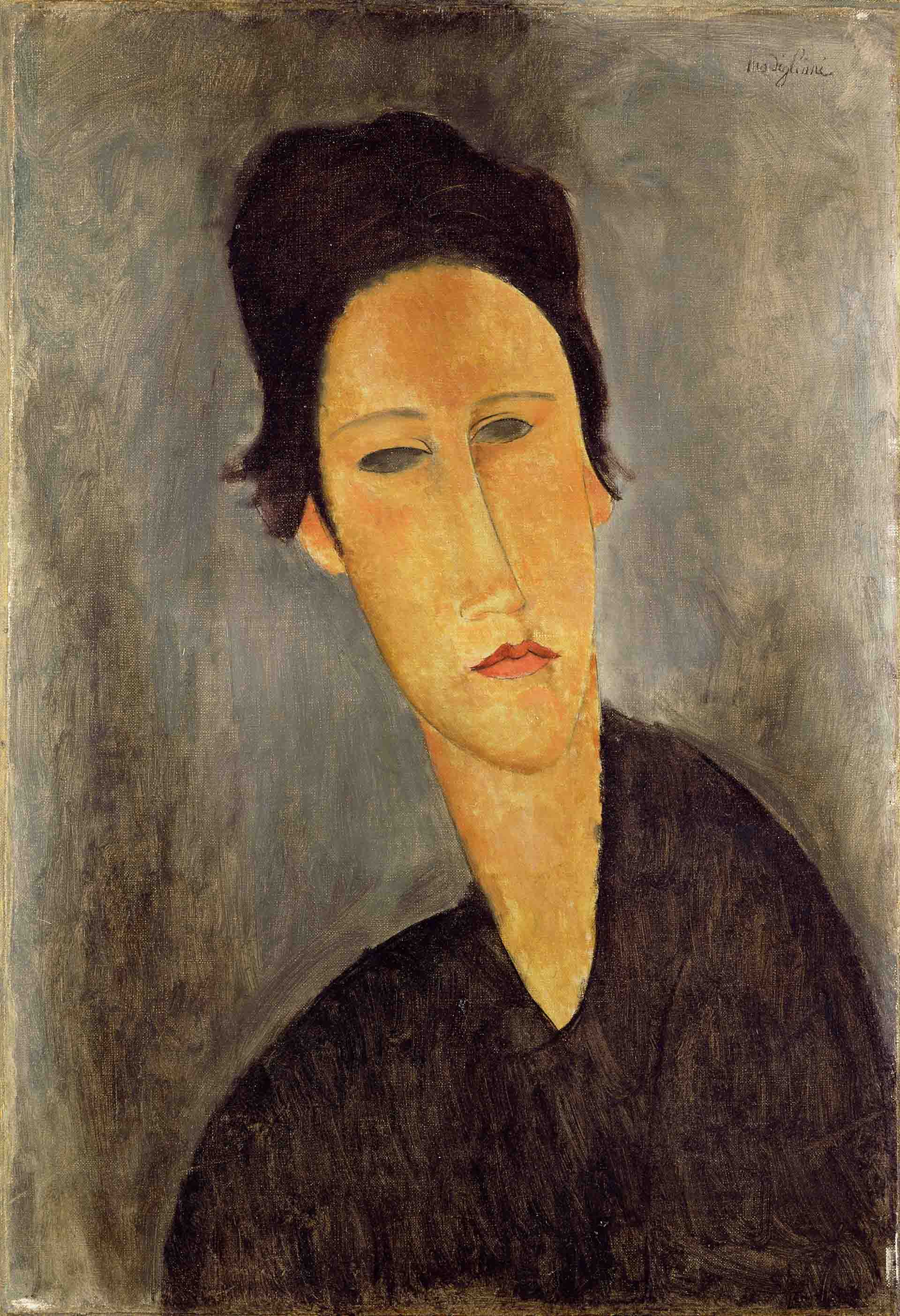 Head of a Woman (Anna Zborowska), Amedeo Modigliani
I am drawn most particularly to two very different pieces in the Sainsbury collection.
Amedeo Modigliani's painting of Anna Zborowska is only one of the many faces on display. Not all these faces are portraits: some are masks, and I feel the ability of masks to suggest power and mystery must have influenced him.
At first glance I saw Mme Zborowska as a real woman with a thoughtful expression. Looking closer, she is a mask. But masks can have eye holes. This woman has no eyes at all. Why?
Eyes are often the focal point of a portrait, giving it life. But the focus here is on the lips. Head and neck are stretched to improbable proportions, pulling our eye down to the intense red lips: a strong mouth that might be about to speak. There is life too in the flush of skin, the fall of hair, the twist of impossible shoulders. So to me she is still a real woman, 'modern' in attitude and style.
Modigliani achieves an intriguing ambiguity by pushing his subject to the verge of abstraction. He flattens the perspective and empties the frame of distraction, so that shape, colour and a few finely drawn lines combine to give Anna Zborowska her powerful presence.
What leads her to my second piece?
Colour and abstraction. She is human. The Javanese axe is an artefact. But the tones of her dress – subtly layered brush-strokes of deep greens, blues and blacks – also appear in the bronze blade. However, the deeper connection is shape. Both are pared down to a purity of form that is beautiful, thrilling, and alive.
—
Margaret Howell
Facts & figures
Head of a Woman (Anna Zborowska), 1917, Amedeo Modigliani (1884-1920). France. Robert and Lisa Sainsbury Collection. UEA 13.
Oil on canvas. 53.7 x 36.8 cm. Acquired 1935.
Other collection highlights