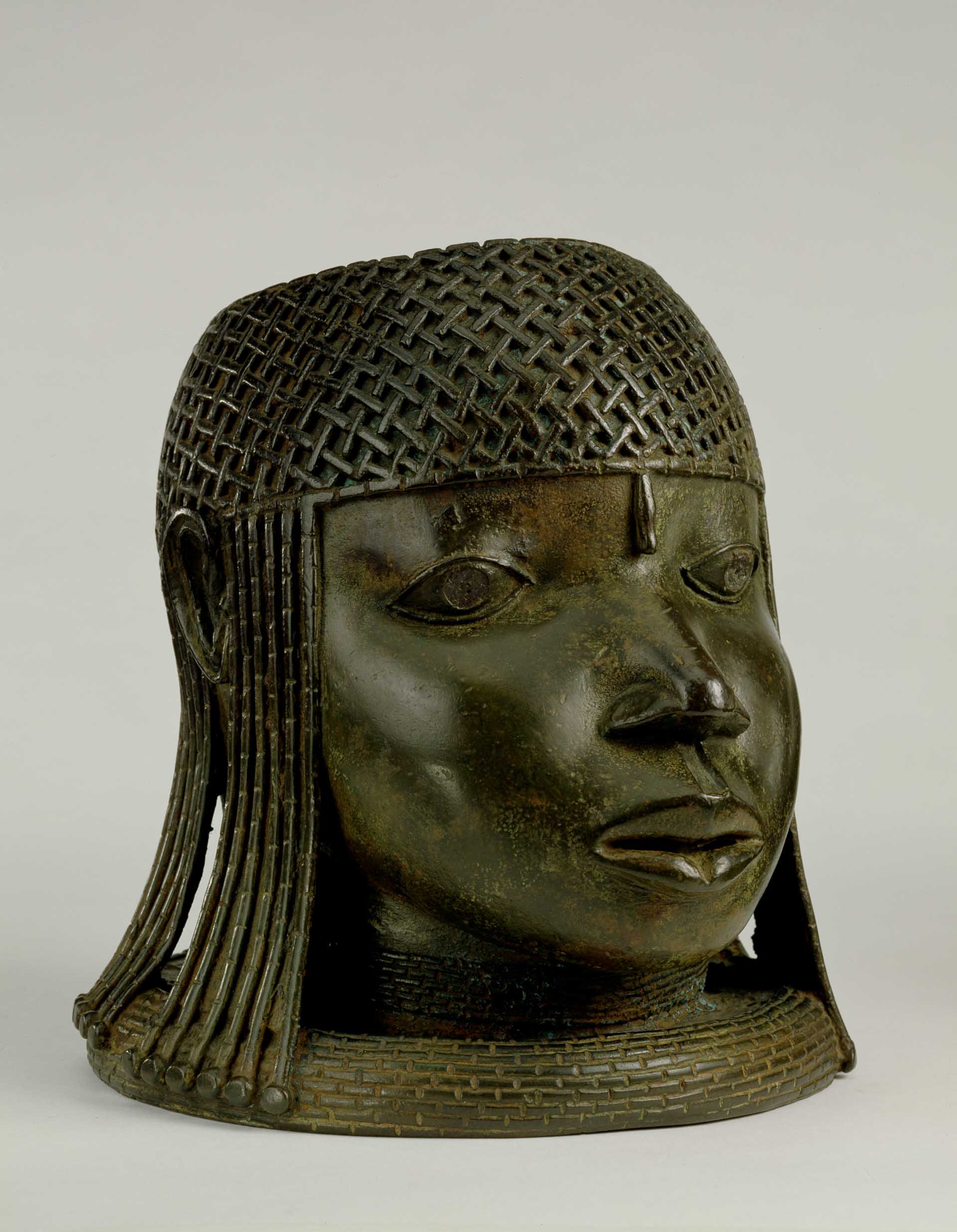 Head of an Oba
The sculptures from Benin City that were brought to London after the 'punitive expedition' of 1897 have always attracted admiration. Given their taste, it is not surprising that Bob and Lisa bought one of the finest examples. Cast by the cire-perdue method at the beginning of the sixteenth century for the altars of ancestors, either by Esigie, the most famous of the warrior kings, for his father, or by his son for him, this head is of a remarkable thinness.
The lattice-like headgear, with its lateral fringes and the roll-collar, represent coral beads, traded across the Sahara from the Red Sea. These valuable items are the emblem and essence of the office of the Oba, or king, of Benin, and he alone wore a beaded costume.
The Sainsburys bought the head in 1962 from John Hewett, who had it from Captain George Pitt-Rivers, whose grandfather, Lt Gen AH Lane Fox Pitt-Rivers, amassed two extraordinary ethnographic collections. The first went to Oxford in 1884 and the second was displayed in his museum at Farnham, Dorset, where this head was in Case 73 in Room VII. The ledgers reveal that it was purchased at Stevens' Auction Rooms in London on 7 March 1898, lot 223, for £17.6s.6d, a high price at the time. In the catalogue of Benin works that the general produced in 1900, the year of his death, the head is described as a "well-formed bronze head of a negress" – such intense beauty was often assumed to be female.
—
Hermione Waterfield
Facts & figures
Head of an Oba. West Africa, Nigeria: Benin. Early period, early 16th century. Brass, iron. h. 23.0 cm. Acquired 1966. Robert and Lisa Sainsbury Collection. UEA 232.
Brass, iron. h. 23.0 cm. Acquired 1966.
Other collection highlights