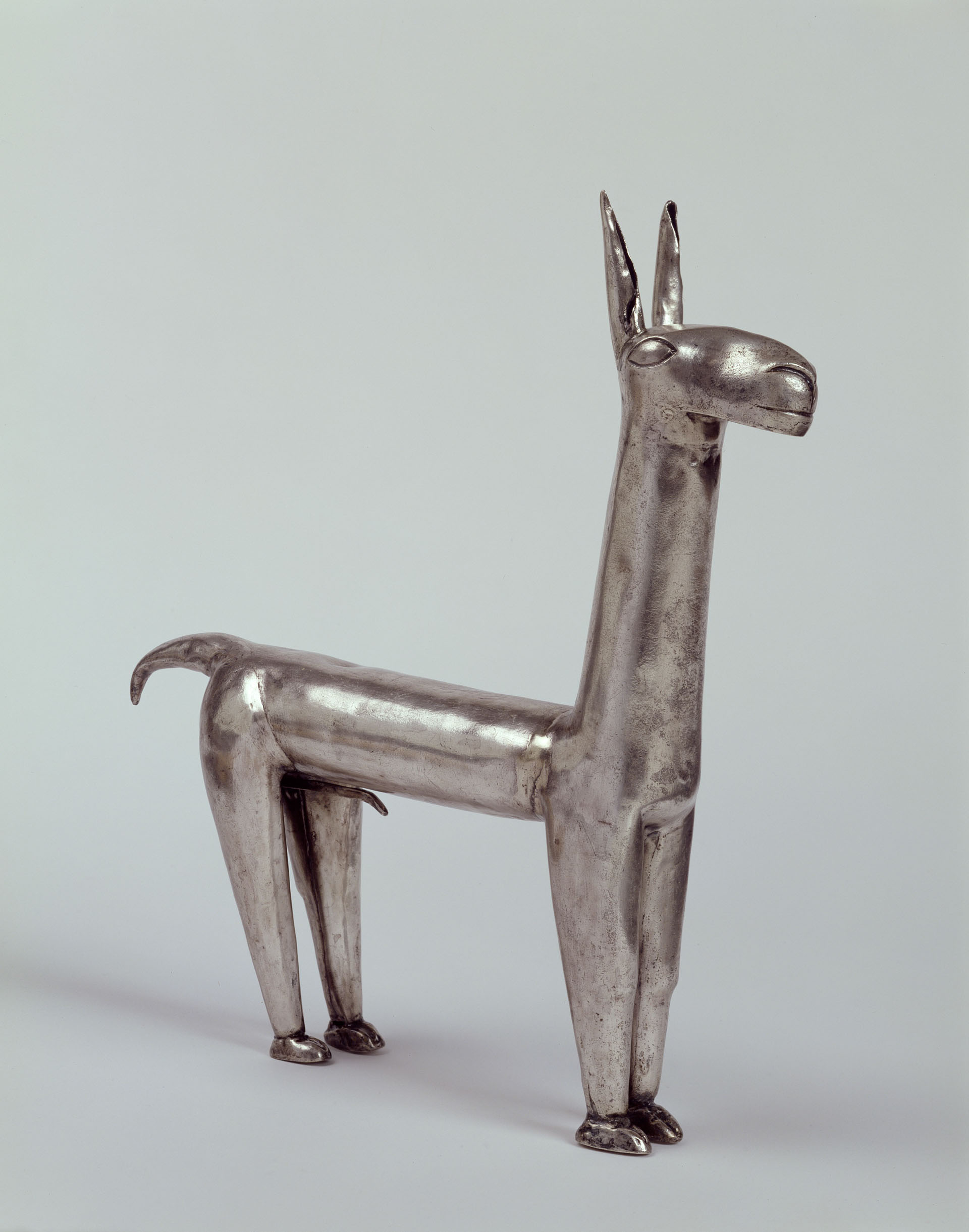 Llama effigy
Despite its diminutive scale, this llama figurine is one of the Sainsbury Centre's most iconic and memorable objects, beloved by visitors, scholars and students alike. Made by the Incas (1440–1532) of South America, it was, like the Sainsburys' bequest, a gift and offering of utmost importance.
Inca offering caches often consisted of paired llamas (the other in gold or fiery red oyster shell), which were deposited with a human male-and-female duo, coca leaf, maize beer and fancy pottery vessels. The most famous occurred with child sacrifices, placed by provincial lords at their most sacred places – on mountains, islands, ruins – to show allegiance to Inca sovereignty. Raised for meat and fleece, and as beasts of burden, camelids were the most important Andean domesticated animals, serving also as pets and companions. Their offering was to signal prized provisioning and the palpable link to highland pasturelands and work – all significant to Inca identity and its ideology of controlled plenty and generosity.
At 23.2 cm tall, this example is four times the size of most llama figurines. But even larger ones existed: Spanish conquistadors glimpsed life-sized gold and silver llama effigies in temple gardens – centrepieces for their contemplation, perhaps not unlike the Sainsbury Centre's gallery setting today. Made by fine Inca metalworking on silver sheet, its features show a lean and pert, youthful body. Its form is simple, yet captures the imperial aesthetic: attentive, economical, anonymous, decorous yet approachable. The llama's attenuated profile is unmistakable. Once seen, this study in abstracted elegance can hardly be forgotten.
­—
George Lau, Reader, Sainsbury Research Unit
Facts & figures
For more information, please see our online catalogue.
Other collection highlights