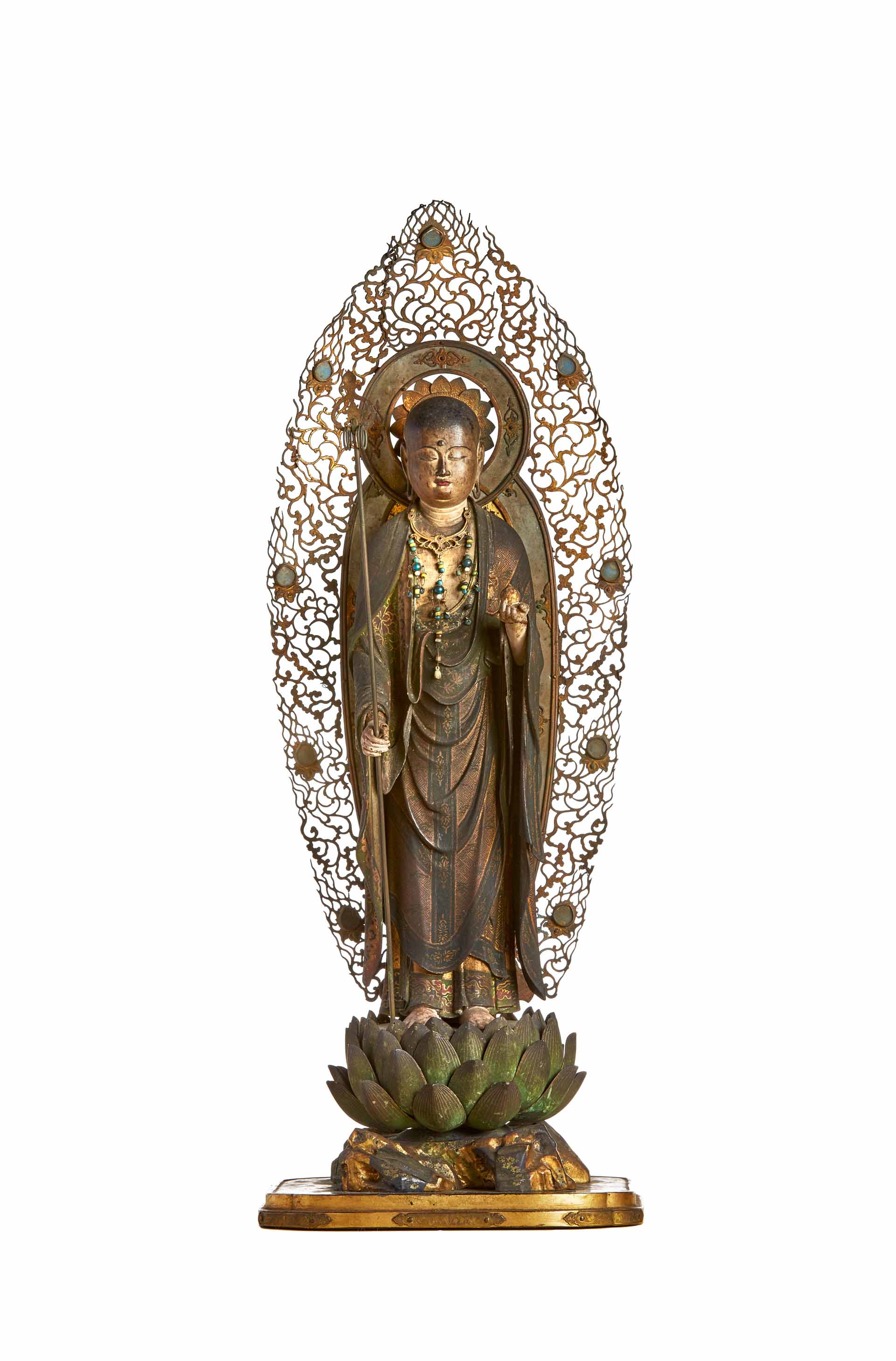 Jizô Bosatsu Buddha, Japan
A sense of meditative calm seems to emanate from within this serene Jizô Bosatsu. Dressed as a monk with a shaven head, Jizô stands on top of an open lotus blossom that is supported by jagged rocks. In his outstretched left hand Jizô holds a wish-fulfilling jewel (Sanskrit: devanagari) and in his right a staff with six rings, as he waits to be of assistance to those in need. The six rings, representing each of the six realms of existence (Japanese: rokudo), jingle to ward off evil spirits. This deity originated in India as Bodhisattva Kshitigarbha, Bodhisattva of the Earth Womb in Sanskrit, a saviour who can help to guide the faithful through the underworld to be reborn in the Pure Land. In Japan, Jizô is known to protect women, ailing children and travellers.
This early thirteenth-century sculpture is in remarkably pristine condition. The body was sculpted from cypress wood in the joined woodblock technique, which was perfected at the time of its creation. After completion, areas of the work were covered in gofun – a type of gesso – and then decorated with cut gold leaf (Japanese: kirikane). The painting on the face and body and the cut gold leaf on the robes were applied when the work was created and have not been retouched. The eyes, made with inlaid rock crystal, are also original, as is the ornate metal mandorla decorated with glass embellished flaming jewels. The necklace might be a later addition, with the lotus and rock stand almost certainly dating to the Edo period (1615–1868). This work bears close similarities to the Jizô Bosatsu created by Zen'en (1223–1226) in the Rockefeller Collection, Asia Society, New York.
When Lisa Sainsbury saw the Jizô Bosatsu she immediately felt it was a 'must have'. Purchased in 2003, this exquisite sculpture was one of the last Japanese objects that Lady Sainsbury acquired. She felt that it would serve as a fitting protector for the entire collection in the Sainsbury Centre.
­—
Nicole Coolidge Rousmaniere, Founding Director, Sainsbury Institute for the Study of Japanese Art and Culture
Facts & figures
For more information, please see our online catalogue.
Other collection highlights