Untitled
Ikemura, Leiko
Life Story
Untitled is a painting by the Berlin-based artist, Leiko Ikemura (b.1951). In the 1990s, Ikemura experimented with colour-field compositions, producing paintings of isolated girls set against solid coloured grounds. Untitled situates its figures against a flat yellow background, creating a dream-like environment that is dislocated from the everyday world. A subtle gradation of colour hints at a horizon line, suggesting a pictorial depth that can be read as foreground and background or sky and earth.
In this work, an abstracted female figure with raised arms occupies the left of the canvas. Beneath the figure, blue brushwork may indicate a pool of water, and to the right, an anthropomorphic shape rises up from the edge of the pool. This ambiguous white form could be interpreted as a rock or an animal with a gaping mouth, such as a shark or a dog. The incorporation of hybrid creatures creates mysterious and surreal narratives within Ikemura's compositions.
Since Leiko Ikemura emerged in the 1970s, she has explored representations of the feminine: the innocence of childhood, the transition between girlhood to womanhood, and the bond between mother and child. Through her girlish figures and hybrid creatures, Ikemura subtly conveys a sense of sociocultural estrangement and alienation, while simultaneously asserting humankind's intimate relationship with the natural environment and the universe. Ikemura's trans-disciplinary practice depicts the connectivity of all aspects of nature, be it human, animal, plant or mineral, in an eternal circle of life, death and renewal.
Ikemura's depictions of girls have been interpreted as a rejection of the 'cult of kawaii, the sickeningly cute', which dominated Japanese popular culture during the 1980s and 1990s. [1] Her hybrid creatures, possessing animal, geological or plant-like characteristics present an alternative to the idealised version of female beauty that is celebrated in mainstream western European culture and art. Her painted figurative compositions from this period are closely linked to her automatic drawings, which reveal the unconscious mind through a process of rapid mark making.
'In the early '90s, my motif was a cephalopod, which evolved into the motif of a "child-girl." This initially began as an image that could be seen both as an animal and plant, but it gradually took on the appearance of a girl, which became for quite a time the theme of my works.' [2]
Untitled anticipates themes that are more fully developed in Ikemura's later landscape paintings, in which rocky outcrops possess human faces, landscapes unfurl within cranial hollows, and trees grow out from the skulls of sleeping heads. In these works, human existence is fully integrated with the natural rhythms of the universe, wherein forms of life come into being, culminate, diminish and disperse. Her atmospheric paintings depict desolate mountain scenes, made permeable by craters and lakes, sparsely populated with otherworldly figures that emerge and disintegrate in an ongoing process of transformation. Central to these works are the themes of environmental fragility, transience and slow evolutionary change.
Leiko Ikemura is a critically acclaimed contemporary artist whose work has been widely exhibited. Her first UK exhibition, Leiko Ikemura: Usagi in Wonderland, took place at the Sainsbury Centre in 2021. This exhibition traced the development of Ikemura's oeuvre and revealed how her artistic language has been influenced through interaction with different cultures in East Asia and Europe. By using cross-cultural references to describe her lived experience, Ikemura's works provide important insights into contemporary society in Japan and Germany.
Born in Tsu, Mie prefecture, Ikemura studied languages at Osaka University. After leaving Japan, she studied painting in Spain before branching into sculpture. Ikemura moved to Switzerland in 1979 and now lives and works in Germany. Internationally celebrated, Ikemura's awards include the 70th Japan Ministry Award for Fine Arts in the 1st year or Reiwa (2020), the Cologne Fine Art Prize (2014) and the Ja-De Prize from the German-Japan Foundation (2013). Her work is represented in the collections of the Centre Georges Pompidou, Paris; the National Museum of Modern Art, Tokyo; the National Museum of Art, Osaka; and the Kunstmuseum Basel.
Vanessa Tothill, January 2023
[1] David Elliott in Adele Schlombs, ed., Leiko Ikemura: All About Tigers and Girls (Cologne: Verlag der Buchhandlung Walther König, 2015), p. 277.
[2] Leiko Ikemura and Julian Heynen, Leiko Ikemura: Transfiguration From Figure to Landscape (Berlin: Distanz Verlag GmbH, 2012, p. 137.
Further Reading
Ikemura, Leiko and Kimio Jinno, Being, (Nagoya: Gallery HAM Nagoya, 1995)
Ikemura, Leiko, Leiko Ikemura: Transfiguration (Tokyo: National Museum of Modern Art, 2011)
Ikemura, Leiko and Julian Heynen, Leiko Ikemura: Transfiguration From Figure to Landscape (Berlin: Distanz Verlag GmbH, 2012)
Friedmann Malsch, Leiko Ikemura. Kunst heute Nr. 20, 'Leiko Ikemura in Conversation with Friedmann Malsch' (Cologne: Wilfried Dickhoff, Kiepenheuer & Witsch, 1998)
Ohst, Melanie, Corinna Wolfien and Studio Ikemura, eds, Leiko Ikemura: Von Ost Nach Ost/From East to East (Rostock: Hinstorff Verlag GmbH, 2020)
Schlombs, Adele, ed., Leiko Ikemura: All About Tigers and Girls (Cologne: Verlag der Buchhandlung Walther König, 2015)
'I have always set off in new directions – an interview with Leiko Ikemura, Apollo magazine, 28 May 2019. https://www.apollo-magazine.com/leiko-ikemura-kunstmuseum-basel/ [accessed 9 January 2023]
Not on display
Title/Description: Untitled
Born: 1993 - 1994
Measurements: h. 400 x w. 300 mm
Accession Number: L.222
Copyright: © Long Loan from Studio Ikemura
In Conversation: Leiko Ikemura and Katy Hessel
International artist Leiko Ikemura joins curator and art historian Katy Hessel in conversation to celebrate Ikemura's first UK exhibition, Usagi in Wonderland.
Continue reading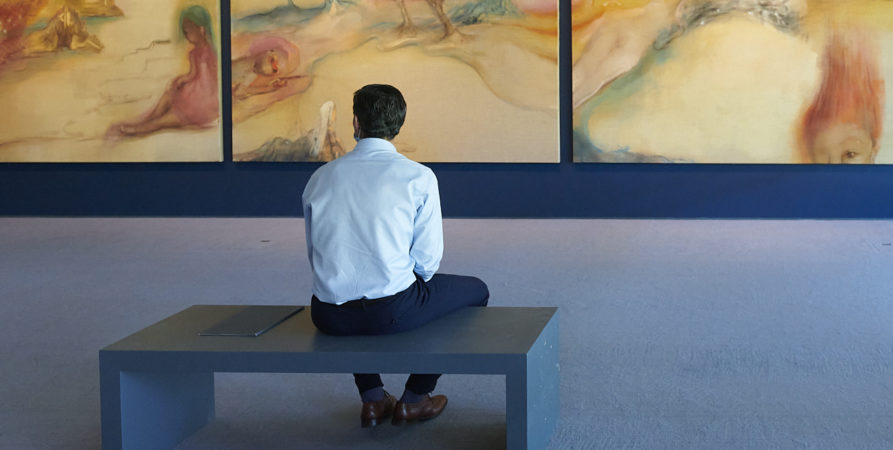 "Special world": Leiko Ikemura's Usagi in Wonderland connects humanity and nature
The Japanese-Swiss artist's new exhibition at the Sainsbury Centre combines sculptures, paintings and photographs that represent the "circle of life"
Continue reading