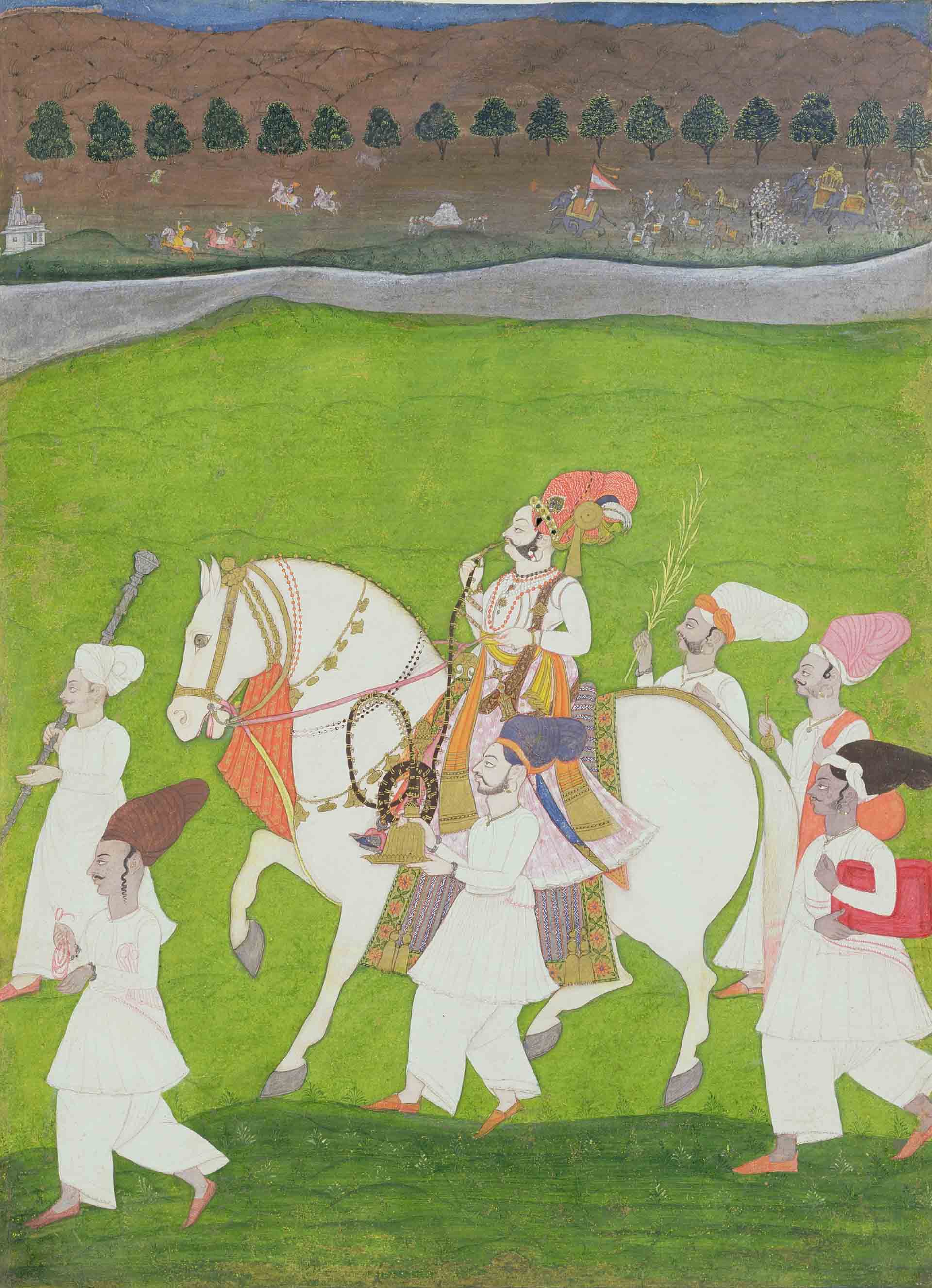 Raja Viram Dev of Ghanerao out riding with attendants, Shahib al-din
Within the Robert and Lisa Sainsbury collection lies a small but fascinating group of Indian paintings on paper. Perhaps aesthetically the finest is the 1680 portrait of Sultan Jamshid Qutb Shah, ruler of Golconda, but my greatest affection, perhaps because of my long involvement with Jodphur, but also for its own aesthetic qualities, is for another work acquired at the same time: a portrait of Raja Viram Dev of Ghanerao (r. 1743–1778) by the Bikaner artist Shahib al-din.
The rulers of Ghanerao, a small feudatory territory of Marwar (Jodphur) in Rajasthan, belonged to the Mertia sub-clan of the region's dominant Rathor clan. The Rathors themselves had been subjugated to the Mughals in the late 16th century, and imperial culture began to exert substantial influence on court life, although the region retained a strong local and regional culture, social organisation and identity. The Rathors of Jodphur became active patrons of painting depicting courtly life, and their feudatories, particularly Ghanerao, followed suit.
The depiction of a ruler riding with attendants is a frequent theme within both Mughal and Rajput painting. Here Viram Dev, riding and smoking a huqqa, is the central focus, but the work is not a simple portrait and clearly references an event.
As he rides across a landscape of gently rolling hills, in the background a significantly grander procession with canopied elephants and many attendants riding and walking, and bearing a mound of material, approaches a small temple. The dark sky and the bright green of the landscape suggest the monsoon season, but whatever the referential intent, the effect of the green behind the white of the horse and the raja's and attendants' garments, with their contrasting coloured turbans and patterned and crisply delineated textiles, creates an overall effect which is both highly pleasing and evocative of the life and landscape of Marwar.
—
Deborah Swallow
Facts & figures
Raja Viram Dev of Ghanerao out riding with attendants. India, Rajasthan, Ghanerao or Jodhpur. Shihab al-din. 1770. Robert and Lisa Sainsbury Collection. UEA 576.
Opaque watercolour and gold on paper. h. 44.0 x w. 32.5 cm. Acquired 1973.
Other collection highlights