Re-evaluating the Collection: Discoveries from the Gatsby Cataloguing Project
As we share new stories about the collection through our online public catalogue, Collections Curator, Katharine Malcolm, examines what makes these objects rare and exceptional examples of their kind, drawing individual catalogue descriptions together to highlight broader themes across this series of works.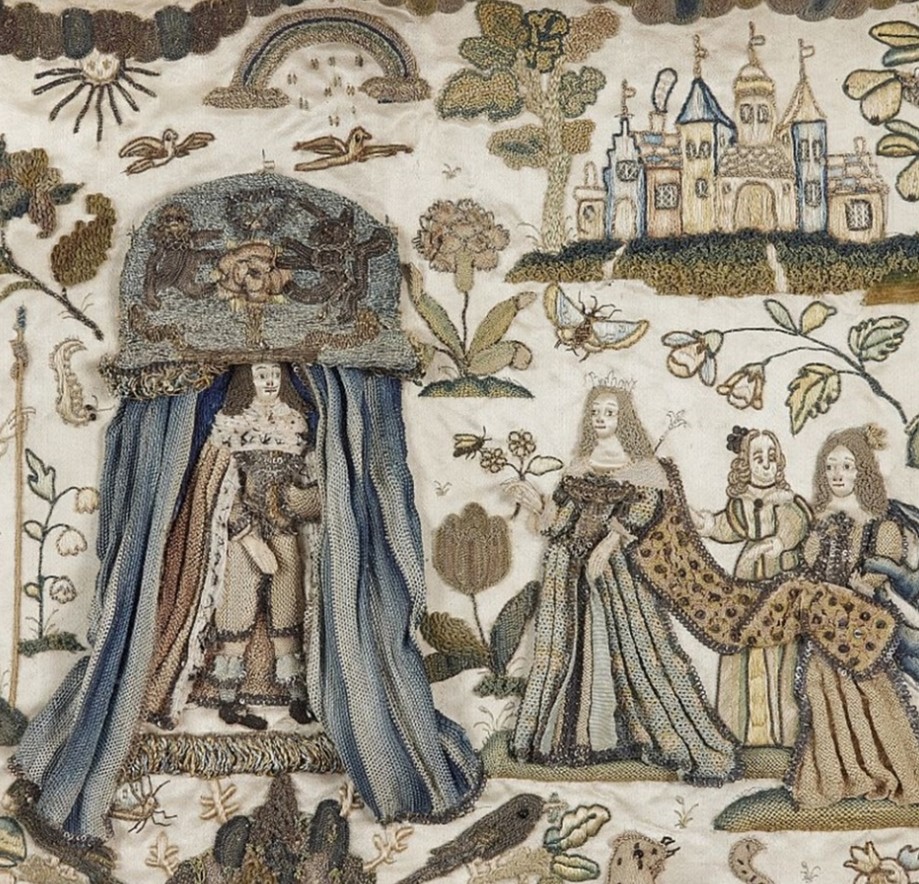 Detail from (1245) Raised embroidery picture, 1662 - 1685, made of beads, chenille, metal purl, metal threads, silk and spangles, using brick stitch, couching, detached buttonhole stitch, long and short stitch, overtwisting, running stitch and satin stitch needlework techniques.
Early Modern Raised Embroidery
Early Modern raised embroidery is a style of needlework in which stitched figures are raised from the surface of a work to form a 3-dimensional effect. This type of embroidery was popular in England between 1650 and 1700. It is also known as 'stumpwork', although this term has only been used since around the end of the 19th century. In the 17th century this embroidery technique was called 'raised' or 'embossed' work, and specialists today prefer to use the term 'raised embroidery' since it is most in keeping with the terminology of the period.
Isabella Rosner, who catalogued these works in the Sainsbury Centre Collection for the Gatsby project, is an art historian who studies material culture from the 17th – 19th century. Rosner is an expert in the study of Early Modern women's needlework (especially British examples) and schoolgirl samplers across all time periods. She is a PhD candidate at Kings College London, writer, producer, and host of the Sew What? Podcast, and co-author and co-curator at Witney Antiques.
Following a visit to the Centre to study these works in October 2021, Rosner's research for the Gatsby Cataloguing Project has uncovered the international significance of this outstanding embroidery collection. The Sainsbury Centre embroideries headline worldwide examples of 17th to 19th century hand embroidered artworks, whilst also showcasing the fact that the creators of these exceptionally elaborate artworks were young girls working domestically at home completing needlework education, to the same standard as professional workshops of the time. Comparative international examples from other leading museums are highlighted and referenced throughout the individual catalogue entries.
The Sainsbury Centre's grapes purse (1278, top) catalogue entry includes a link for a visual comparison to the V&A's grapes purse (T.172-1921, bottom), both exceptional, nearly identical, examples of couching, detached buttonhole stitch and finger weaving techniques of embroidery.
The near perfect condition of a miniscule early 17th century English purse (1278), which takes the form of a bunch of grapes, tells us that it was not carried or used on a regular basis. It was probably used as a sweet bag, held to the nose like a pomander or used in linen and clothing storage areas. The majority of seventeenth-century sweet bags are square in shape, but some are shaped like animals (such as frogs or crabs) or bellows. This is one of a very small number of purses in the shape of grapes held in public collections.
This purse is nearly identical to an example at the Victoria and Albert Museum. The V&A object also has a polychrome bunch of grapes with pearls, purl-bordered vine leaves, hanging trios of grapes, and silver and pink finger woven cords. The objects differ slightly in their vine leaves and the V&A example lacks the two trios of grapes that hang from the vine leaves. The identicality of the two extant purses, as well as the high quality of material and work, suggests that they may have been made at a professional workshop rather than in the home or at school.
The repertoire of historical stitchwork techniques revealed and specified in Rosner's catalogue entries determined a consequent decision to develop our data terminology, in alignment with established, specialist technical vocabulary in this niche field, for describing such works.
Two 3D scans of the embroidered casket (1250), in both open and closed positions, further showcase the elaborate multi-plane pictorial compositions of the work, as well as the object's design and functionality. Experience moving the object in all directions yourself through the link above to the casket's catalogue entry.
A seventeenth-century cabinet (1250), likely made by a schoolgirl, is one of the smallest examples of an early modern embroidered cabinet or casket known to survive. A box such as this would have held its maker's letters and writing implements, tiny needle worked objects and sewing supplies, fragrances, and precious objects such as jewellery and gems. The box is a cabinet rather than a casket, as it has both a door that opens (or, in this case, falls forward) and a lid that is lifted. It has an unusual format, with a fall-front door opening on one of the shorter sides, instead of double doors opening on the long side, as is the case with most other flat-lidded cabinets. The only other known cabinet with such a composition is an example at the Metropolitan Museum of Art. This example is of a similar size and features highly similar needlework, suggesting the two objects were by girls taught by the same teacher.
Every single surface of the cabinet is covered, with exceptional attention to detail. Panels of scenes typically depict biblical stories, pastoral and hunting scenes, female personifications of the senses, and a whole variety of different images of mermaids, grottos, lions, deer, insects, birds and other animals. Inside there is a pincushion and spaces for an ink well, paper, sewing supplies, jewels and perfume bottles. These caskets have secret compartments under silk drawers or under containers, which show us boxes were not only spaces of storage, but also spaces of security and privacy for girls to hide things away.
The manner in which such cabinets or caskets were produced is fascinating: Underdrawings in repeat designs were produced by professional artists in London for purchase, for girls to add their own stitching on top of these designs. Once the embroidered panels were finished, they were sent back for the professionals to then construct into boxes. This collaboration of professional and non-professional work demonstrates how girls were offered a level of creativity, but in limitation, within a pre-existing structure.
This embroidered picture (1279) was likely made by a nonprofessional needleworker, such as a girl at school or woman in the home, rather than by a career stitcher. Whoever worked the piece likely borrowed the scene from an etching that was widely produced and disseminated. 17th century England saw an explosion in print culture for the monied masses, which led to prints being a very popular source of inspiration for amateur needlewomen.
Though the print source for this embroidered work has not yet been found, it was likely adapted from Abraham Bosse's 1635-8 etching called "Taste," taken from his series "The Five Senses" ("Les Cinq Sens"). Though there are differences in the setting, figures and time period, both scenes depict feast scenes in which servants attend to a seated couple. It is likely that the print source for the embroidered picture was published in the 1650s, given the figures' clothing. Intriguingly, the scene's composition is highly similar to an early 18th century Indian painting in the collection of the British Museum, which shows a man and three women in European clothing partaking in a feast in Mughal India.
The positions of two figures at the table and the two servants attending to them are identical in the painting and the embroidered picture, implying the use of the same, now lost or not yet identified, print source. The use of the same print in England and India across half a century illustrates not only the power of print culture in the early modern world, but also the ability of these etchings to be adapted across a wide variety of media and cultures.
The skillful embroidery on a casket from around 1650 (1303) suggests it was a professional production, a theory proven by the survival of two nearly identical pieces of embroidery: the first is a casket in the collection of the Dallas Museum of Art, while a second piece, a single panel, is in the Textile Museum in Washington, D.C. The Dallas box has the same shape, dimensions, and interior composition as the Sainsbury example.
The Dallas and Sainsbury boxes have nearly identical front, back, and Cain and Abel panels, as well as matching elephants, spotted leopards, and winged angel heads. The Washington, D.C. panel matches the possible Queen of Sheba or Philip and the Ethiopian panel on the Sainsburys casket. All three pieces have the same Noah's Ark and rained-upon houses, as well as highly similar human and animal figures. Though the pieces utilise different stitch combinations, they were clearly made by embroiderers with a matching stitching style. These three pieces constitute the only seventeenth-century English needlework caskets known to have been made by professional embroiderers rather than domestic stitchers.
Though this looks like a typical purse, 17th-century bags such as this one would not have been everyday accessories used to carry money or other quotidian goods. Rather, they were more likely used to hold sweet scents. Richly embroidered bags of this sort were stitched in the last decades of the sixteenth century through the early decades of the seventeenth century and the survival of so many examples suggest they were very popular amongst those wealthy enough to afford them. Small decorative bags appear on many household inventories from the period and were listed as "sweet bags." The pouches were filled with fragrances and placed in linen and clothes closets to keep textiles smelling fresh.
Sweet bags were also worn on the body, suspended from a girdle around the waist. In this form, they were likely used as needleworked pomanders, held to the nose to stave off unpleasant odours or the miasmatic spread of illness. Oddly, sweet bags are absent from the visual records – they do not appear in portraits, prints, or drawings from the period. The large number of surviving sweet bags implies that such objects were treasured and not used often enough to be damaged or fall apart. Small purses were also used as a form of gift wrapping in the seventeenth century, used to hold money or jewellery presented on special occasions. The annual inventories of gifts received by Queen Elizabeth I for New Year include many such bags.
Most sweet bags are embroidered with flowers and plants, often copied from illustrated botanical books widely published in early modern Europe. This bag is no exception. It features a carnation, cornflower, primrose, a pair of lilies of the valley, and two peapods. The flowers and pods are made of detached buttonhole stitch and the pods can be lifted to reveal three-dimensional peas. Tucked among the plants is a blue and gold snail. The flowers are connected by thick chains made of metal purl. While the purse does not have the rinceaux patterns typical of so much early modern embroidery, its adoption of floral motifs and inclusion of metal purl chain is in line with the needlework aesthetic of the time. Both sides of the bag are symmetrical. Like many bags of the period, this example has a silver thread ground. At the bottom of the bag are three silver and salmon-pink tassels which complement the salmon-pink silk interior of the bag and the silver and pink finger woven drawstring.
This sweet bag has a drawstring with woven text, which is relatively unusual. It is difficult to read the entire text, but what is legible reads, "WOUND NOT THAT HART WHO [or THOU] HOW ART COME TO SALUTE." It may be that two short phrases have been combined. No contemporary source for the full inscription or for "would not that h[e]art" or "how art come to salute" has been found thus far.
Katharine Malcolm, Collections Curator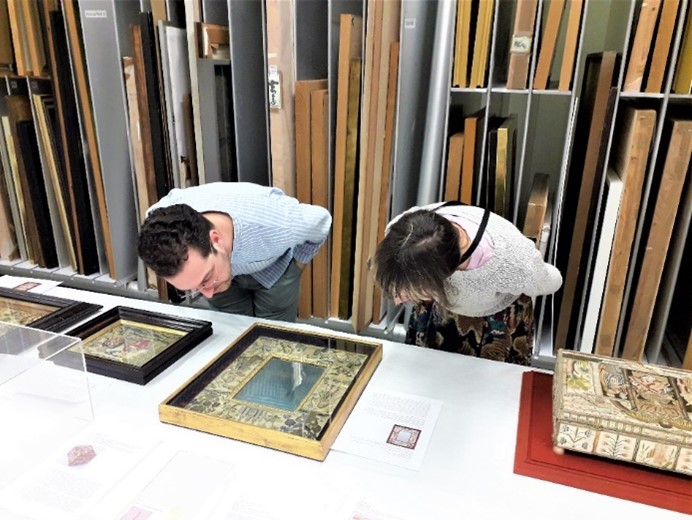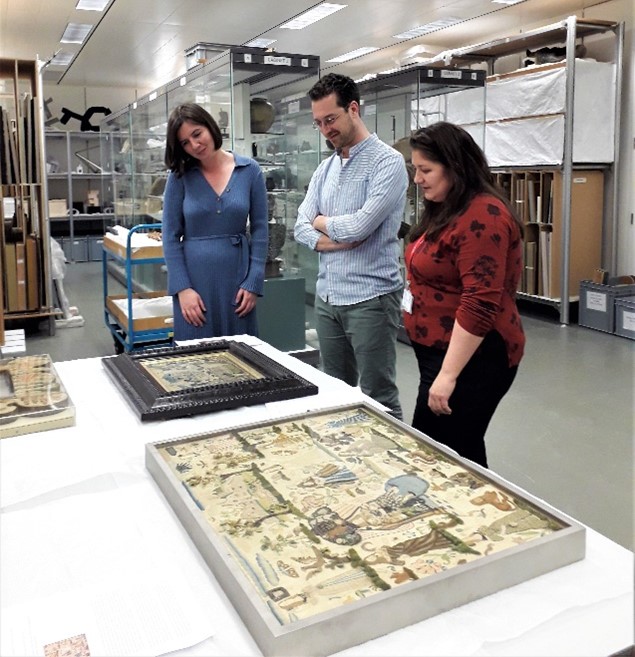 Katharine Malcolm and Kat Mager from the Sainsbury Centre Collections team, examine the newly catalogued embroidered works with visiting members Jack Hartnell and Sophie Butler from UEA's Art History department and School of Literature, Drama and Creative Writing, December 2022.
You might be interested in