CURATOR PODCAST – WITH TANIA MOORE
In this podcast, I returned to Moore's Reclining Figures at the Sainsbury Centre with Tania Moore. This time, I asked Tania to tell us more about the original siting of the works in relation to the Sainsbury Centre building.
GALLERY 1 – FROM THE ARCHIVE
Tania brought my attention to these wonderful images from the archive, relating to the siting and installation of Henry Moore's Reclining Figure. We hope you enjoy them as much as we did. They offer a fascinating glimpse into the installation process.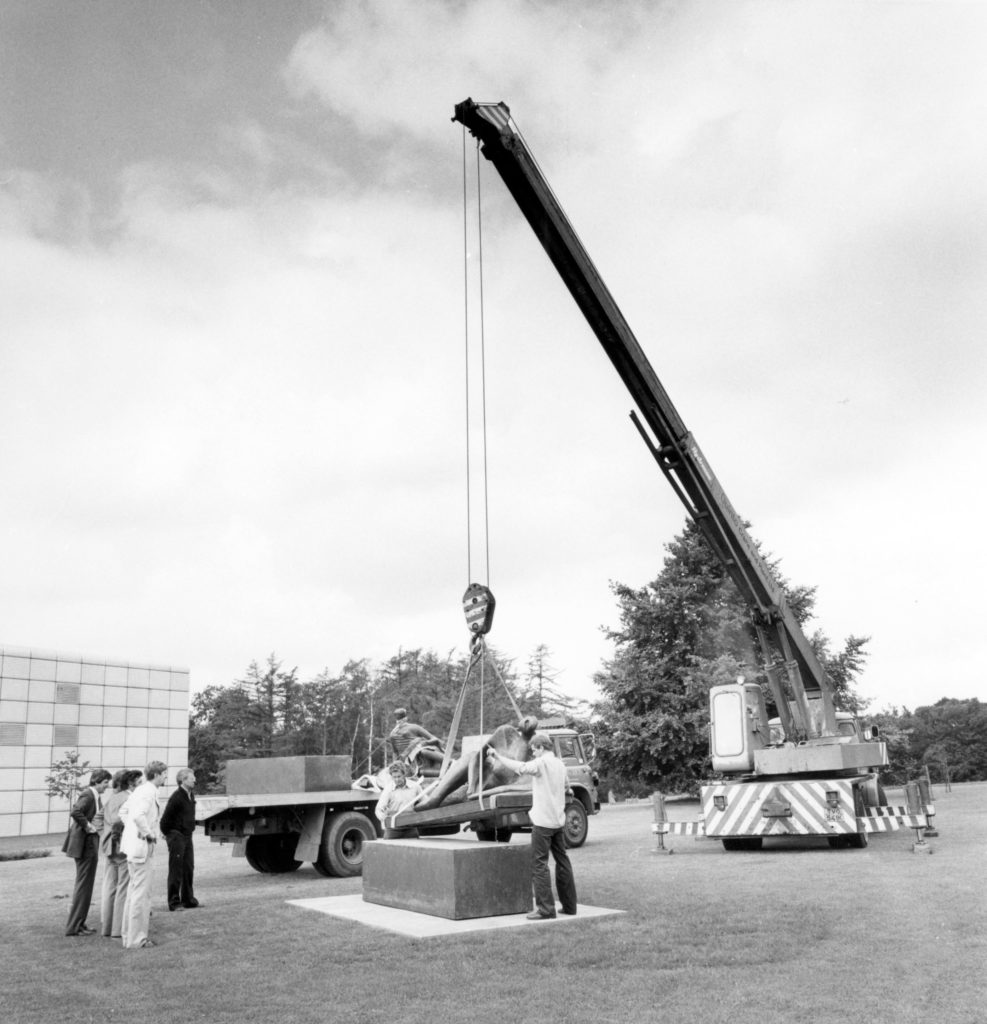 GALLERY 2 – MOORE'S SCULPTURE AND FOSTER'S ARCHITECTURE
Now take a look at our three reclining figures again, this time focussing more specifically on the relationship with Foster's architecture.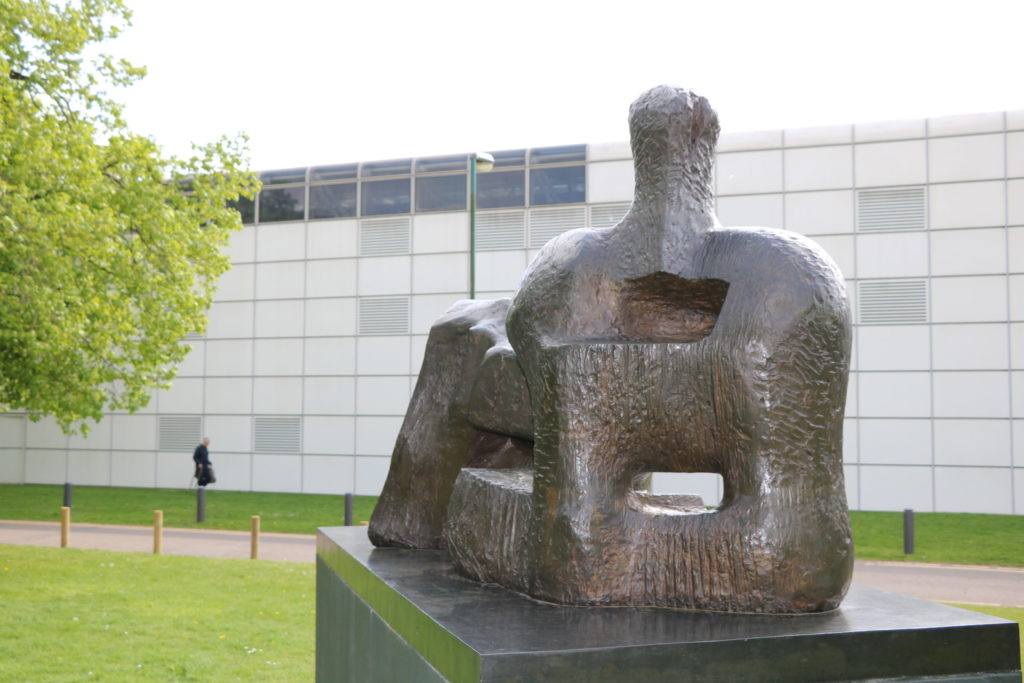 ACTIVITY
Without overthinking, simply write a visual description of all three of Moore's sculptures in relationship to Foster's Architecture. Consider echoes and contrasts; issues of scale, and anything that gives you a sense of a relationship between them. You might also consider whether the constant backdrop of the Sainsbury Centre brings into focus the differences between Moore's three reclining figures, and your own responses to their energy and mood.
READING
Our 'long read' for this lesson is an article by Andrew Stephenson, Fashioning a Post-War Reputation: Henry Moore as a Civic Sculptor c.1943–58. Stephenson explores Moore's ideas about the civic responsibilities of the sculptor, in relation to the built as well as the natural environment. As always, don't worry about trying to note down or remember every point, just jot down anything that illuminates your personal understanding of Moore's sculpture.
ACTIVITY
So – did anything in Levinson's essay makes you look at and think about our three Reclining Figures in a different light? Before I share my thoughts in the concluding video: what did you make of this idea of Moore as a 'Civic' sculptor? How would you sum up this idea of a 'civic sculptor' to a friend?
OPTIONAL ASSIGNMENT
Return to Henry Moore's Draped Reclining Woman that you looked at in Lesson One. As Tania mentioned, this piece is still in the original location chosen by Henry Moore together with Robert Sainsbury and Norman Foster. This time, write a short reflective piece considering the sculpture's placement beside the Sainsbury Centre. Why did Moore choose this precise location, do you think? How well do you think the placement works? Does the sculpture add anything to your experience of the architecture? Does the architecture add anything to your experience of the sculpture?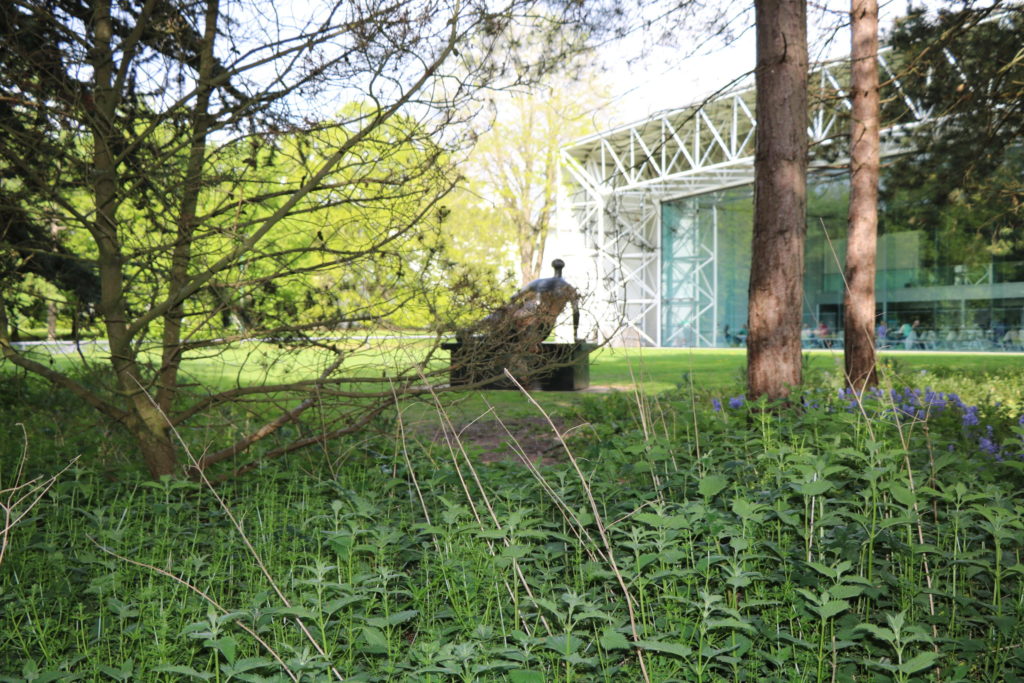 FURTHER EXPLORATIONS
The reading for this lesson comes from the Tate research publication, Henry Moore: Sculptural Process and Public Identity which, if you're interested in investigating Moore further, is worth a read in full.
For Henry Moore and his relationship with Robert and Lisa Sainsbury, see Tania Moore, Henry Moore: Friendships and Legacies, Sainsbury Centre for Visual Arts, 2020.
For a quicker, but no less thoughtful read, this article for Caught by the River, by Adam Scovell, offers a nice reflection on encountering a Henry Moore sculpture on an inner city housing estate. https://www.caughtbytheriver.net/2019/03/henry-moore-and-the-brandon-estate/
For more on the history of the Sainsbury Centre, take a look at this wonderful piece of archive film on the opening of the Centre in 1978.