INTRODUCING ANTHONY CARO
Anthony Caro was born in Surrey in March 1924 to a Jewish family. After leaving Charterhouse School, he studied engineering at Christ's College Cambridge, but his first love was always sculpture. During vacations he attended Farnham School of Art and worked in the studio of sculptor Charles Wheeler RA. After serving in the Fleet Air Arm of the Royal Navy (1944-46) he studied sculpture, first at Regent Street Polytechnic, then at the Royal Academy Schools, London, where he followed a traditional academic training, studying and copying casts of Greek, Etruscan, Romanesque and Gothic sculpture.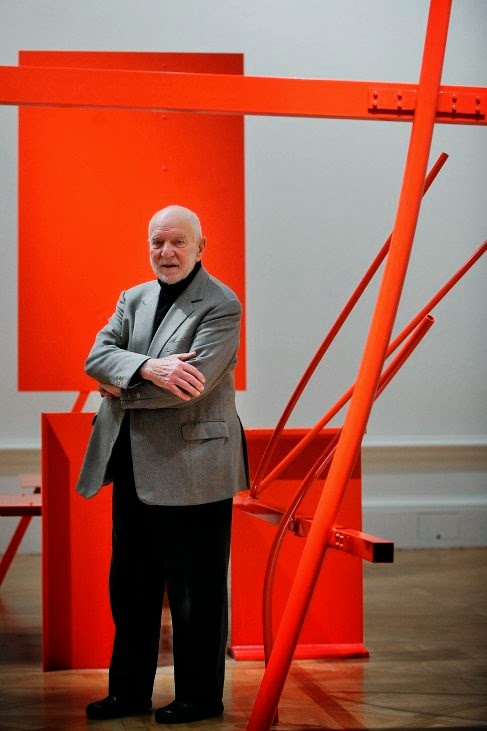 In 1951, Caro, dissatisfied with his training, sought out the best sculptor in England to learn from. He made his way to Hoglands and knocked on Henry Moore's door. Six months later, he had moved to Hertfordshire with his family to be Moore's assistant. It was here that he encountered modernism. After leaving Moore's studio in 1953, he moved to Hampstead, where he made figurative works in clay and plaster. During summer vacations he collected pebbles and stones which he incorporated into his sculptures.
In the latter part of the 1950s, Caro's career began to take off. He had his first solo exhibition in Milan in 1956, and his first solo show in London the following year. The decade ended with an auspicious meeting in London with the American critic, Clement Greenberg. This began a lifelong friendship. Greenberg's visits to Caro, and their conversations over a number of years, greatly influenced Caro's thinking and practice. Another seminal experience for Caro at the end of the decade was his first visit to America where he met artists such as Kenneth Noland, Jules Olitski, Helen Frankenthaler, Robert Motherwell and David Smith. Caro later credited Smith, in particular, with influencing the subsequent shift in his approach – he was impressed by Smith's down-to-earth attitude and positive American energy, as well as his work.
From 1960 Caro was looking to America not Europe for inspiration. This marked a dramatic shift away from figurative sculpture. He made his first abstract sculpture in painted steel, entitled Twenty Four Hours, in 1960, and his first polychrome sculpture, Sculpture Seven, the following year. He welded together pieces of industrial steel such as beams, steel plates and meshes. His first solo exhibition at the Whitechapel Gallery, London, in 1963, brought this daring new work to wider public attention. He exhibited fifteen large abstract steel sculptures. These were placed directly on the ground, rather than the usual plinths, allowing the viewer to walk around the sculptures and encounter them close up. This removal of the traditional barriers between viewer and sculpture was considered ground-breaking at the time. A return to America in the same year to teach at Bennington College brought him into contact with the painters Jules Olitski, Paul Feeley and Peter Stroud. He also renewed his contact with Noland and Smith who lived nearby. It was Noland who gave Caro the idea for working in series, which he continued throughout his career.
​
Exhibitions at a range of prestigious international venues followed, including the Tate Gallery in London, and Washington Gallery of Modern Art. In 1966 his work was included in the British Pavilion at the Venice Biennale. Caro continued to innovate. In 1968, following a conversation with British critic Michael Fried, he developed small table-top sculptures, with the table edge being an important component of the work. The following year saw a major retrospective exhibition at the Hayward Gallery, London. Michael Fried provided an essay for the catalogue.
By the early 1970s Caro was being heralded as a pre-eminent artist on the international stage. Reviewing his first solo exhibition in New York, the New York Times called him 'the most accomplished sculptor of his generation'. As the decade progressed, he continued to exhibit extensively in America and Europe. A major retrospective of his work was held at the Museum of Modern Art, New York, in 1975, subsequently touring to a number of major venues in America. As a visiting lecturer, Caro travelled widely, including to Mexico, New Zealand, Australia and India. He utilised his travels as opportunities to try out different mediums and techniques. He continued to push his medium, working in factory settings, using heavy equipment such as cranes, and working in tubular steel.
Throughout the 50s, 60s and 70s, Caro was teaching at St Martin's School of Art, London. The radical change of direction in his own practice led him to rethink his approach to teaching. Along with Frank Martin, head of the sculpture department, he revised the curriculum. Welding workshops were offered. Drawing was also integrated into sculptural practice as a tool for understanding form, fostering an experimental, questioning atmosphere far removed from his own training. Former students and assistants include Phillip King, Richard Deacon, Barry Flanagan, Hamish Fulton, Gilbert & George, and Richard Long, among many others. Some were positively influenced by Caro's approach, others pushed back against what they felt was a new dogma. In either case, Caro's presence and his influence on the next generation of sculptors, was undeniable.
In the early 1980s, Caro's work changed direction again with the introduction of more literal elements. After visiting Greece in 1985, he made a series of narrative pieces inspired by classical friezes and pediments. After Olympia (1986/87) was his largest work to date. During this decade he also began experimenting with works on an architectural scale. Child's Tower Room (1983/84), made in Japanese oak, allowed the spectator to enter the sculpture's interior space. Caro also collaborated with architects, including Frank Gehry with whom he constructed a wooden 'sculpture village' in 1987, leading the pair to coin the new term, 'sculpitecture'. He was knighted in the same year.
His dialogue with architecture continued into the 1990s. He completed Sea Music for the quayside in Poole, Dorset, and Tower of Discovery in 1991, which went on to be shown at the World Expo Fair, Seville. In 1996 his large-scale work, Goodwood Steps, was displayed at the Hat Hill Sculpture Foundation, Goodwood, where it remained until 1998, before going on to Chicago Navy Pier,. In the late nineties, with the architect Norman Foster and the engineer Chris Wise, he designed the London Millennium Footbridge (opened in 2002), which spans the Thames between St Paul's Cathedral and Tate Modern.
Further accolades followed. Caro received the Order of Merit in May 2000, the first sculptor to do so since Henry Moore in 1963. In 2004/2005 a number of major galleries, including Tate Britain, held, major exhibitions and retrospectives of his work to honour his 80th birthday, and several new books and television programmes appeared.
Caro continued to work into his 80s. In 2012, he was working on an immense, multipart sculpture that would extend for three blocks along Midtown Park Avenue. In 2013 he exhibited at the Museo Correr, Venice, Italy, in connection with the Venice Biennale. The exhibit was still running, when Caro died of a heart attack on 23 October. He was 89.
During his lifetime, over 130 solo exhibitions of Caro's work were held around the world. His sculpture is now represented in many of the world's greatest public and private collections. In every year since Caro's death, multiple solo exhibitions and retrospectives of his work have continued to be held internationally. He is widely regarded as the most important English Sculptor since Henry Moore.
GETTING YOUR EYE IN
In this video, I take a walk through Goodward Steps using my mobile phone. As you're watching, notice how the act of moving and walking is a key part of that initial experience. Think about the movement between interior and exterior. Notice the changing vistas visible through the work. Consider the difference between size and scale: how do we read scale in relation to our own bodies as we move through/around a work like this, and how do we experience scale through comparison with features such is trees and buildings in the surroundings.
Note down anything you notice that you find particularly interesting.
CURATOR WALK THROUGH
I did the same walk with Calvin. Listen to his observations as we walk through the sculpture. If this prompts any new thoughts or observations, add them to your notes.
FROM THE ARTIST'S PERSPECTIVE
Take a look at these excerpts from two interviews with Caro. As you read, think about these questions: What is it that Caro is really trying to 'get at' with his art? What does he hope the viewer might experience when engaging with his sculptures? How would you summarise this for an interested friend?
"Certain things about the physical world and certain things about what it is like to be in a body are tied up together. Verticality, horizontality, gravity, all of these pertain both to the outside physical world and to the fact that we have bodies…These things are of importance in both my early figurative and the later abstract sculpture. In the abstract sculptures they are crucial."
"Art, music and poetry are about what it is like to be alive. That almost goes without saying: depth of human content is what raises art to its most profound level. But that human content resides and finds expression within the language of the medium…The language we use in sculpture is the language of sculpture: that has to do with materials, shapes, intervals and so on."
"To a spectator a sculpture or a painting for that matter is essentially a surrogate for another person. Therefore it has to be expressive."
"My job is to do with art, with pure delight, with the communication of feeling, with the enrichment for a short time of those who look at it."
"Look at history. Sculpture has been bogged down by its adherence to the monumental and monolith, by its own self-importance. To release sculpture from the totem, to try to cut away some of its rhetoric and bring it into a more direct relation to the spectator has helped free it a bit. Its physicality is less underlined than it used to be. All that is what I would like to think I have been a part of."
"People have asked me, 'What does your sculpture mean?' It is an expression of my feeling. The meaning in art is implicit, not explicit; and to require explanations suggests a real discomfort with the visual. I wish people would trust their feelings more when making or looking at art."
"Yes, there is a big difference between his (Moore's) art and that of people of my generation. It is misleading to call our art 'urban' but if his art is to do with the countryside and nature then ours could certainly be said to be more urban than his."
From an interview with Peter Fuller, first published in Art Monthly No.23, 1979, and reprinted in Anthony Caro, Catalogue Raisonné Volume III, Steel Sculptures 1960-1980, Verlag Galerie Wentzel Köln.
"Sculpture is always to do with being in the body. The figurative works of the '50s were illustrations of that. But my early steel sculptures were, instead, a reflection of bodily behaviour, like dancing. I think the fact of being …6 feet tall and the stretch of my arms are very important.
From an interview with Julius Bryant, recorded at Anthony Caro's north London studio, Friday, 9 January 2004. Printed in Anthony Caro: A life in sculpture, 2004, Merrel.
CURATOR PODCAST – WITH CALVIN WINNER
In this podcast, I returned to Goodwood Steps with Calvin. I asked him why he was so keen to bring Goodwood Steps to the Sainsbury Centre; how and why the current site was chosen; and what he thinks this recent addition offers visitors to the park.
ACTIVITY
As you are listening, think about our key question: how does this sculpture relate to the campus architecture, both visually, and in terms of their underlying social and civic ethos. Add anything to your notes that you find interesting.
READING
Have a look at this wonderful conversation between Anthony Caro and Norman Foster from Tate Etc, which explores the relationship between their sculptural and architectural practices. It very usefully pulls together a number of ideas we've been discussing in this lesson, and as you'll see, it is particularly relevant to Caro's larger scale pieces, such as the Goodwood steps – and to the Sainsbury Centre!
Tate etc. Issue 3. Spring 2005. The Poetics of Space
OPTIONAL ASSIGNMENT
If you were given the opportunity to select the next location for Caro's Goodwood Steps – this could be anywhere in the world – where would you choose and why?
You might find it useful to consider some of the things we've looked at in this section:
scale, as opposed to size, and how this will vary depending on the setting;
sightlines – how the piece will look against the backdrop of its setting from different angles, and the visual conversations this will set up with the surrounding nature/architecture;
how the piece will invite the viewer to move around it and through it, and the changing vistas this will offer;
how the piece will invite the viewer to engage with it. Who will be seeing it, in what context, and what does your choice of siting offer to them?
You could try collaging the work onto different backgrounds, using digital tools, or googling and printing some images and using good old cutting and gluing.
As always do consider sharing your thoughts with us via social media. Don't forget to tag us @sainsburycentre, #MooreToGormley
FURTHER EXPLORATIONS
If you want to dig deeper into the relationship between sculpture and architecture, and how it sits within the wider social and art historical context, this essay by Gillian Whitely provides a useful overview. Gillian Whitely, Display 1950-75, Sculpture in 20th-century Britain, The Henry Moore Institute, 2003, pp185-199. If you're going to buy one book to accompany this course, I'd recommend this one. The last time we checked, the Henry Moore Institute were selling it here for a bargain price of £10.00.
For more on Caro's career in general, Anthony Caro: A life in sculpture, by Julius Bryant, (Merrell, 2004) provides a good overview. It includes the full interview between Bryant and Caro at Caro's studio in 2004.
For more on Foster and Caro, see the personal tribute to Caro written by Norman Foster in March 2014 for the RA Magazine. In this piece, Foster continues his reflections on the relationship between Caro's work and architecture, particularly his larger scale pieces, with a particular reference to Goodwood Steps. At the time of writing, the piece can be found here: Man of mettle | Blog | Royal Academy of Arts
There is also a wonderful interview with Caro by John Tusa for the BBC. Things do come and go on the BBC archive, but at the time of writing it can be found here: BBC Radio 3 – The John Tusa Interviews, Anthony Caro (1924 – 2013)