Sainsbury Centre announces ground-breaking new museum concept to mark its 50th anniversary
2023 marks 50 years since Sir Robert and Lady Sainsbury donated their art collection to the University of East Anglia (UEA) and asked a young Norman Foster to create a radical alternative to the traditional art museum.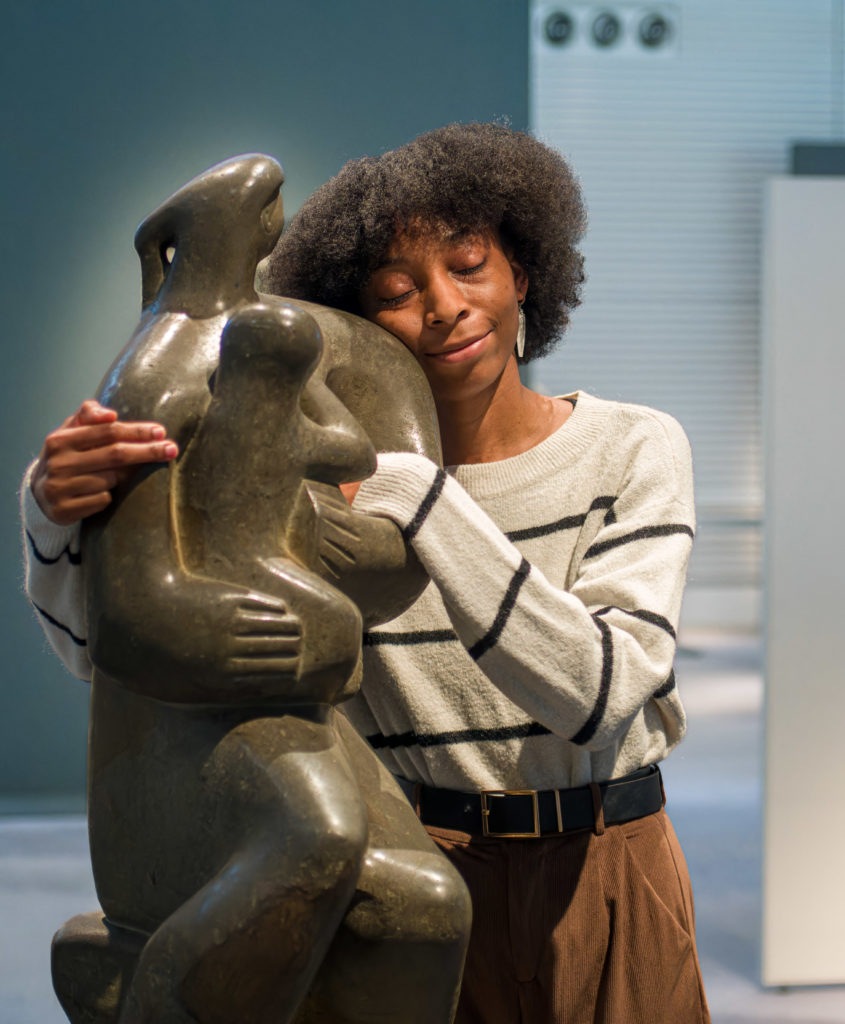 Mother and Child, Henry Moore, England 1932
There will also be two curated journeys: A Living Art Director's tour introduces you to seven works of art providing an alternative framework for emotionally engaging with them in a different way. A Sharing Stories tour brings together more than 30 contributors from around the world, so that you can choose which voice of the artwork you want to hear from. You can select between artist, lived experience, or expert and listen to some of the most interesting artists, thinkers and specialists working across the art world today.
Visitors will be given a newly created Sainsbury Centre Handbook for Meeting Living Art providing a whole series of practical steps and techniques to help people build a new relationship with a living work of art in their own way. New ways to move, feel, think, and activate yourself within the museum. This handbook can be taken away and experimented with in any gallery or museum setting. There is also a new Living Art exhibition that allows visitors, who don't want digital or text-based approaches, to feel what we mean when we think about living art.
This major museum relaunch also includes the announcement of a radically different exhibition programme with a series of six-month seasons centred on fundamental societal challenges answered by living art.
Sainsbury Centre Executive Director Jago Cooper says: "The Sainsbury Centre is a place where amazing art is alive, egalitarian and freely available for everyone to enjoy and experience in their own way. Dividing works of art by culture, artistic movement or time-period is a bit like putting them in prison restricting their ability to escape and communicate freely."
As living beings and a physical presence of the incredible people and cultures that created them, the art of the Sainsbury Centre can help reframe and answer the most important questions people have in their lives. It is not a museum to only learn more about artists such as Francis Bacon or movements such as Modernism. It is a place of experience, to witness the effects of substance abuse, understand why people kill each other and visualise the origins of a globalising world. We have developed the environment, experiences, and a new approach to help set visitors on this journey and I look forward to welcoming people here to do so."
The building blocks for the relaunch have been carefully laid over the last 18-months including; The hiring of new talent such as the recently arrived Curator of Art and Climate Change John Kenneth Paranada, Changing the governance of the museum to provide living works of art with their best lives; Opening the exhibition Empowering Art: Indigenous creativity and activism from America's Northwest Coast, and Julian Stair: Art, Death and the Afterlife, and the acquisition and loan of new works to go on display for the relaunch by incredible artists such as Somaya Critchlow, Rebecca Warren, Magdalene Odundo, Yinka Shonibare, Maud Sulter, Sergio de Carmargo and Elizabeth Fritsch.
In addition, everything is 'Pay if and What You Can', under the new museum-wide universal ticket system introduced in March, the first of its kind in the UK.
When the Sainsbury Centre first opened its doors in 1978, the iconic Living Area was ground-breaking. Art was taken off the walls and placed on pedestals of equality in the largest open plan gallery space in the country at the time. Portraits painted in Paris salon and Ptolemaic temple were in direct conversation alongside shadows cast by Polynesian gods and Japanese spirits, interspersed with contemporary works by the likes of Francis Bacon, Lucy Rie and Henry Moore. Daylight streamed through the largest windows in the country and visitors could choose their own journey of discovery.
In the 1970s, the rule-breaking Sainsbury Centre was one of the most famous museums in the world. This relaunch to mark the 50th Anniversary of the original gift is capturing that rule-breaking intent, building on its origins to present an alternative model of what a museum is and how visitors can meet art in the 21st-century.
Jenny Waldman, Director, Art Fund, said "Art Fund has helped the Sainsbury Centre build its collection over the last 50 years, most recently helping the museum to acquire Awol Erizku's compelling neon Nefertiti (Black Power), a large-scale wall mounted sculpture by Rana Begum and contemporary painting by First Nation Canadian artist Sonny Assu. Great art and culture is for everyone to enjoy, and this exciting approach to displaying the remarkable collection will no doubt engage many visitors to the museum in new ways."
You might be interested in