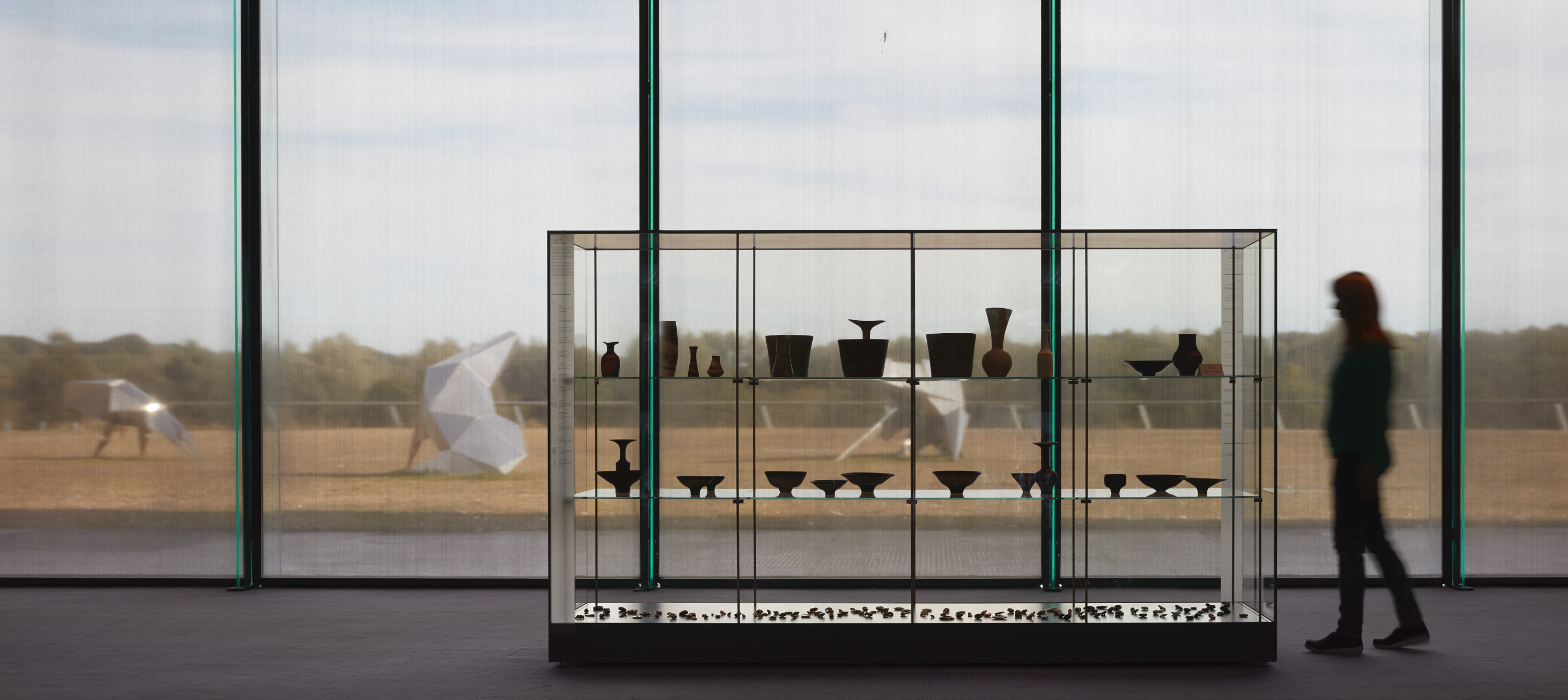 Become a member
Discover more of what the Sainsbury Centre has to offer by joining us. Be the first to visit our special exhibitions and enjoyed unlimited access to them for free throughout the year. Looking for a unique gift? Why not gift a membership to your nearest and dearest.
Benefits
– Unlimited, free entry to all of our special exhibitions
– An exclusive preview day of all our exhibitions
– Priority booking for all our events as well as a members' discount
– 10% off selected items in the Sainsbury Centre Shop
– Quarterly members' email newsletter
– An annual members' evening
– Free entry to exhibitions for up to two children per member*
*Individual membership allows you to bring up to two children free and any + guest membership allows you to bring up to another two children.
Pricing
Individual – £50 a year
Individual + Guest – £75 a year
Young Membership (Under 26) – £40 a year
Young Membership (Under 26) + Guest – £70 a year
UEA & NUA Student Membership – Free**
**Student members
Come and find out more about what the Sainsbury Centre has to offer, visit the iconic building, see temporary exhibitions and attend special events as part of our free student membership scheme for UEA and NUA students.
To sign up, please email scva@uea.ac.uk from your UEA/NUA student email address with your name, email address and telephone number with subject line Student Membership. We will add you to our list of student members and you will receive all the benefits of our usual membership as above.
PRICING
Thoughts from member Ms Moyse, 5 June 2020
My daughter came to UEA in 2013 to study Art History and Anthropology.  What a privilege to have the Sainsbury centre as your faculty base!  Her life was transformed by her studies.  She spent a year in New Zealand at Otago University  as part of her degree and went back to live there for two years on graduating.  Our lives were transformed when we fell in love with Norwich, bought and renovated a Jacobean farmhouse outside the city and moved here from London in March 2019.  The triple whammy was completed when my mother in law, then aged 87, moved to Norwich from Manchester in July 2019.  We are all so grateful to have been here during Lockdown with the city and the countryside at our disposal. Really looking forward to getting back into the SC.  Loved 'Art Deco by the Sea' online. Said daughter heading off to SOAS in September to start her MA in The Anthropology of Food…
Join our Exhibition Circle
For an annual donation of £500 (benefit £45, suggested donation £455)
Your philanthropy is especially appreciated at this challenging time and we are extremely grateful for your ongoing support.
Your donation of £500 enables us to continue creating our innovative exhibition and learning programmes but delivering them in a different way.
The current conditions do not permit us to meet together as is usual so in the meantime our intimate art events for donors will come straight to you virtually in our new "At Home with the Sainsbury Centre" evenings.
During closure our director, curators and gallery experts will host exclusive invitation-only Zoom conversations with artists, previews in advance of our exhibitions opening and bring the collection into your home.
You will also be first to receive:
– Links to our exclusive art podcasts
– Socially-distanced introductions to new works in the sculpture park in small groups.
– Monthly e-bulletin updates on the Centre's exciting plans.
– Your 10% discount can be used against online purchases from the shop.
– Your unlimited entry for two to exhibitions will resume at opening.
– Name recognition in the Annual Review and website
– Exhibition Circle card and holder
Please bear with us while we are working out how to make this as safe, accessible and enjoyable as possible. Contact Stephanie Renouf, Head of Development on 07785 551193 or via s.renouf@uea.ac.uk
Thoughts from an Exhibition Circle member, Mr L
Kate's Zoom talk was enlightening and inspiring in equal measure.  I had no idea so much was going on.  It also shows what can be achieved from turning adversity into opportunity with a little bit of lateral thinking. Many thanks indeed for organising such a wonderfully memorable evening.  I am normally all 'Zoomed out' after about 10 minutes: yesterday evening I was not aware of the time at all, it just flew by which shows how enthralling it was.
Join our Exhibition Circle Plus
For an annual donation of £1,000 (benefit £145, suggested donation £855)
For an annual donation of £1,000, our Exhibition Circle Plus includes benefits of the Exhibition Circle above, together with an exclusive private curator-lead tour of the Collection and current exhibition for up to 10 people.
We are hugely grateful to the members of the Exhibition Circle and Exhibition Circle Plus for their generous support which enables our learning and exhibition programmes.
Davina Barber
Andrew and Rose Barnes DL
Charles Barratt DL
Mark and Gay Bedini
Simon Blakey
Debbie Carslaw
Henry Cator OBE, DL
Dominic Christian
Jane Colman
Alison Dow
Frank and Di Eliel
Mike FitzRoy
Sara Foster DL
Richard Gurney DL
Anthony Hudson
Susan Jack
Caroline Jarrold
Henrietta and Michael Lindsell
Ian Lonsdale
Patrick Lines and Han Yang Yap
Lissie Macfarlane
Margaret Masterson and Simon Goodman
James Mullan
Prof Keith Roberts OBE
Nicole Roberts
Gerard Stamp
Exhibition Circle Plus members
Martin Pinfold
Tom Staunton
Mel and Stuart Ralph
Jackie Higham
Lady Goodenough
David Kogan and Leah Schmidt
Anya Waddington
and others who prefer to remain anonymous.
Please note: The benefits package of Exhibition Circle and Exhibition Circle Plus membership can be bought separately without making the suggested donation to the Sainsbury Centre.

READ MORE
Leave a legacy
Share your love of art with future generations by making a gift to the Sainsbury Centre. Leaving a legacy is a remarkable way to directly contribute to the preservation of our collections and our ability to engage with our different communities for years to come.
Your legacy could have a direct effect on the future of our collections, ability to stage ground-breaking exhibitions, showcase latest scholarly research, engage with and provide our many communities with fun learning experiences.
We can guide you on a non-specific bequest so we can allocate funds where we need the most or you can decide.

Recognition
A gift in your will can be recognised in many ways and we are happy to discuss these with you.
Making Your Will
A will is an effective legal document that can help safeguard the future of the people and causes you care about and want to help. Your solicitor will advise the best way to do this but please do call us if you would like to benefit any aspect of the Centre's work. We will be delighted to advise.

READ MORE
Corporate support
Create brand awareness, raise your profile, provide well-being opportunities and engage your business with key target audiences. Bespoke packages available.
We offer two levels of support:
The Corporate Club – for an annual sponsorship level – you receive a core package including brand awareness and hospitality and can add other benefits to suit your business objectives.
Corporate Partnership – we work with you to develop a specific package of benefits aligned to our exhibition and learning programmes.
We start with a conversation to understand your business needs and marketing objectives before we begin to create a tailor made programme for you.
All donors feature on the corporate support board in the gallery, in our Annual Review, on the website and in other collateral.
Our current Corporate Club Sponsors are:
Alan Boswell – info@alanboswell.com
Loveday and Partners – Mark@lovedayandpartners.com
Fairhurst Gallery – Sophie@fairhurstgallery.co.uk
Adnams – O.drury@adnams.co.uk
MHA Larking Gowen – enquiries@larking-gowen.co.uk
Contact: Call us for a tour and exploratory chat about our creative opportunities
s.renouf@uea.ac.uk or 01603 591350
Donate now
You may wish to support us by simply making a donation. Please follow the link here. Thank you. We are very grateful.