Sainsbury Centre launches the first of its new 'Big Question' seasons
Planet for our Future: How do we adapt to a Transforming World?
We are embarking on a new approach to exhibition programming, empowering art to address fundamental societal challenges.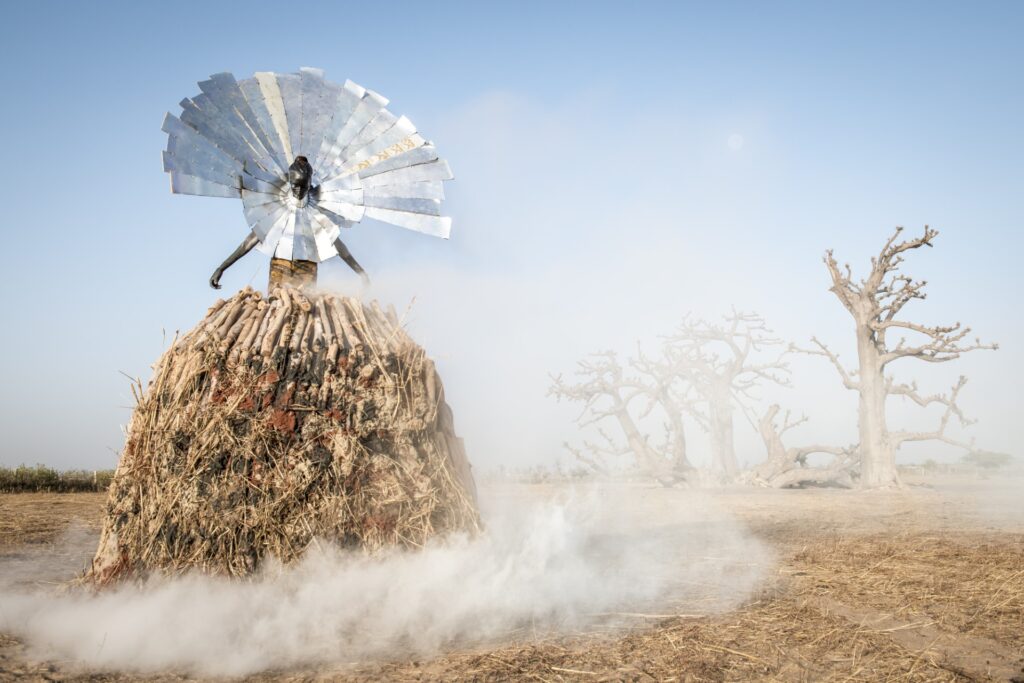 Fabrice Monteiro, The Prophecy, Untitled No.9, 2015, Photograph
Artworks from all over the world will be travelling to the Sainsbury Centre to pose these urgent, global questions to visitors and to help them to find the answers. This is part of a radically new approach that understands art as alive and capable of engaging people with the fundamental questions of life.
The first of these new seasons kicks off in autumn 2023 with Planet for our Future. This asks one fundamental question that confronts us all: How do we adapt to a transforming world?
An interconnected programme of exhibitions, interventions, collection displays, an artist residency, museum-late, artist-led workshops, and special projects, taking place across the whole art landscape and out into neighbouring communities, will empower art to generate a living dialogue with visitors, inviting them to consider the global challenges of pollution, environmental destruction, and climate change.
The aim is to mobilise the Sainsbury Centre as a space of hope through the transformative power of art: a space where we can imagine better futures in which collective human behaviour mitigates the effects of climate change.
The Stuff of Life | The Life of Stuff
10 September 2023 – 14 January 2024
In this major international exhibition, visitors will meet artworks composed of salvaged materials, resynthesised fragments, and e-waste. They will encounter new environmental zones, where synthetic and organic matter interact, providing a fertile ground for the invention of mythical worlds, dystopias and speculative future narratives.
These hybrid living-art entities have life stories that begin with the histories of the objects from which they have been born, and which tie them intimately to the things that construct our own sense of reality and animate our immediate environments. Through these challenging, empathic, and creative encounters with the artworks, visitors are asked to reimagine their relationship to synthetic materials and commodities designed not-to-last, and consider who is responsible for consumption, over-production, and waste streams in modern society. Ultimately, these artworks demonstrate the ingenuity of human creativity to re-imagine our relationships with the
planet and inspire people to positively engage with our shared future.
The Stuff of Life | The Life of Stuff is curated by Vanessa Tothill, Curator at the Sainsbury Centre.
Sediment Spirit: Towards the Activation of Art in the Anthropocene
15 October 2023 – 30 March 2024
Curated by John Kenneth Paranada, the first Curator of Art and Climate Change at a UK museum, this exhibition brings together local and international artworks from the 1960's to the present day which are responding to the climate crisis in all its complexities.
These provocative and interactive artworks invite audiences to view the Earth as a living and responsive being that we play an active part in sustaining. Sediment Spirit acts to remind audiences that our home is not just the house, the building, town or country we reside in, but the Earth itself. The artworks in Sediment Spirit connect us back to the corporeal, poetic, social and visceral experience of human-made climate change. They expand our capacity to re-imagine our surroundings and how we might exist within them in more sustainable ways to provoke new ways of living, offering ways forward by providing hope and imagination.
Sediment Spirit is curated by John Kenneth Paranada, in dialogue with the Tyndall Centre for Climate Change Research, and Explorers Against Extinction.
Claudia Martínez Garay: Artist Residency
September – October 2023
Claudia Martínez Garay (born 1983, Peru) will come to the Sainsbury Centre for an artist residency responding to the question 'How do we adapt to a Transforming World?' in dialogue with the Sainsbury Centre collection.
Martínez Garay will make new work that reanimates the fragments of lost histories, underscoring the diverse connections of Peruvian Indigenous cultures with the natural world. The work will be presented alongside Sediment Spirit, marking the first time this internationally respected artist will show her work in a major UK art institution.
Claudia Martínez Garay lives and works between Amsterdam and Lima. She has exhibited internationally, including at the Sifang Art Museum, Nanjing, China; Kunstverein Braunschweig, Germany; Museo del Barrio, New York; and the Sharjah Art Foundation, UAE.
Future Programming
Future Seasons will ask:
• What is truth? (Spring 2024)
• Why do people take drugs? (Autumn 2024)
• How do we resuscitate a dying sea? (Spring 2025)
• Can humans stop killing each other? (Autumn 2025)
• What is the meaning of life? (Spring 2026)
You might be interested in