The Terrace
The Terrace is our new cafe and specialty coffee outlet. We will be serving coffee from multi award-winning roasters Square Mile, offering a menu of popular espresso-based drinks as well as a changing line-up of guest single origin filter coffee from around the world.
The Sainsbury Centre is committed to supporting East Anglia's thriving economy of local, independent suppliers and will be placing them centre stage – featuring food and drink from less than twenty miles from the building.
Expect to see delicious cakes from Figbar and sandwiches from SALT.
Browse our example menu to see what we have on offer, subject to change seasonally.
There is indoor and outdoor seating available. Payment by card or mobile device only. Toilet facilities on site.
Opening times:
Tuesday – Friday: 9.30am – 4.30pm
Saturday – Sunday: 10am – 4.30pm
Last orders 30 minutes before closing

Modern Life Cafe
The Modern Life Cafe is our dedicated restaurant serving a choice of delicious, freshly prepared food and drink with a strong emphasis on local and seasonal produce. A diverse selection of hot meals for adults and children and full range of hot and cold drinks will be available.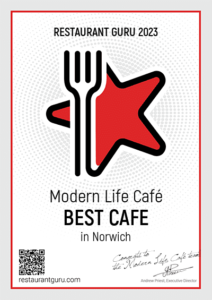 Download the menu on this page to get a flavour of what's on offer.
Payment by card or mobile device only please.
Opening times:
Tuesday – Friday: 9am – 5pm
Saturday – Sunday: 10am – 5pm
Last orders 15 minutes before closing
Please call 01603 592474 for table reservations.
Venue Hire
The Sainsbury Centre is a unique landmark of architectural history, making it a perfect setting for any special event. We can host corporate events, group visits, location filming, studio workshops and more, as well as offering a range of catering and accommodation options.
If you would like to contact us about booking a 2023 event, please email Laszlo Szucsko, Cafe, Events & Hospitality Manager: l.szucsko@uea.ac.uk