Latest News
10 January

Find out more
Pablo Picasso:
The Legacy of Youth
13 March – 17 July 2022
We are delighted to announce our new spring 2022 exhibition Pablo Picasso: The Legacy of Youth. This is a focussed exhibition which looks at the early artistic formation of Pablo Picasso, from his teenage years to his thirties (1896 – 1914).
The exhibition traces the artist's progress, from his childhood in Malaga to his rise in Paris as acknowledged leader of the international avant-garde. It compares his achievement with the artists he admired and made use of, including Monet, Degas, Toulouse-Lautrec, Bonnard, Gauguin and Redon. Rarely seen paintings and drawings will be shown alongside more familiar works.
Picasso had mastered a variety of styles depicting a wide range of subject matter before he had even turned 20, a greater accomplishment than most artists could ever hope to achieve. By concentrating on this formative stage, The Legacy of Youth demonstrates how Picasso freely appropriated material from diverse cultures while developing a visual language rich in personal symbolism.
With over 20 works by Picasso including paintings, drawings and prints, the exhibition shows how the young artist embraced successive styles at large in the art world of his time. It recreates the freshness of Picasso's stylistic encounter with successive waves of Impressionism, Symbolism and Post-Impressionism.
Tickets will go on sale on our What's On page on 1 February 2022.
---
New sculpture: Usagi Kannon
This week we unveiled the majestic bronze sculpture Usagi Kannon by Japanese-Swiss artist Leiko Ikemura, as the latest artwork to join their expanding Sculpture Park.
Usagi Kannon, which translates as 'Rabbit Bodhisattva of Mercy', is a towering figure with rabbit ears and a human face. This hybrid character was first created in 2011 in response to the Fukushima nuclear disaster in Japan and the subsequent reported birth defects in animals. With a crying face in mourning, the artwork is dedicated to the people and living beings who died and suffered losses in the tragedy.
Usagi Kannon offers shelter through their bell-shaped skirt, acting as a protective shrine. Once inside, the small holes in the skirt shed star-like rays of light creating an encompassing universe around the viewer.
The University of East Anglia grounds within which the work sits is home to the longest studied rabbit colony. Usagi Kannon is the most recent example of artwork interacting with the natural surroundings and biodiversity on site.
Whilst the coinciding exhibition Usagi in Wonderland finishes on 12 December 2021, Usagi Kannon will remain with us for some time. Visit the artwork for free in the Sculpture Park until the end of 2024, located at the south side of the Sainsbury Centre building.
---
Remembering Ian Tyson
We are saddened to hear that artist Ian Tyson has passed away. Tyson was a great friend of the Sainsbury Centre. In 2006, he was commissioned to make Proximity (pictured below), a site-specific outdoor sculpture for the UEA campus. He went on to donate a lovely collection of his maquettes.
He was also an important printmaker and book artist. He had lived in France for many years but kept in touch with the Centre and had many friends in the region.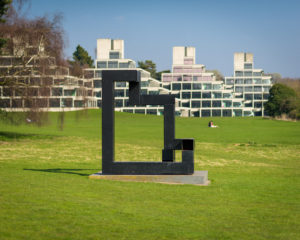 Remembering Sir Timothy Colman
Sir Timothy Colman was a close friend and supporter of the Sainsbury Centre from its very foundation in the 1970s. He played an enormously important role in its formation and continued to support the programme and activities throughout the Centre's almost 45 year history.
Most recently he was delighted with the progress of the Sculpture Park and generously supported the addition of new works to the campus. His lifelong belief that the arts should be for everyone was at the heart of his philanthropy and the Centre benefitted from his tremendous commitment to this principle. His last visit, last year, was for a tour of the Sculpture Park where he asked lively questions on its future development and entertained with tales of his own remarkable collection. He will be hugely missed.
---
New Director Announcement
UEA and the Board of the Sainsbury Centre are pleased to announce the appointment of Jago Cooper as the new Director of the Centre and Professor of Art and Archaeology, who starts on Monday 15 November.
Professor Cooper has spent more than 20 years working on a diverse range of cultural projects around the world, always centred on the study and communication of visual and material culture.
After ten years as Head of the Americas Section at the British Museum and Director of the Santo Domingo Centre of Excellence for Latin American Research, these collaborations have led to a series of innovative exhibitions, artistic commissions and international exchange programmes that challenge traditional museum practice.
With a particular interest in using digital technologies to reach new audiences and cut across multiple academic disciplines, his work spans the subjects of art, museology and archaeology. In addition to his books and exhibitions, Jago has also written and presented a series of BBC documentaries based on his research and international collaborations.
Professor Cooper said: "Since its inspired creation in the 1970s, the Sainsbury Centre has always been a place that breaks the rules in how Art and Culture should be seen and experienced. I am absolutely delighted to be joining such an inspirational institution that brings powerful stories to a global audience through its outstanding collections. I can't wait to start working with the team to develop further the exciting programme of upcoming exhibitions, acquisitions and collaborative projects inspired by the Sainsbury collection and in many ways also by the world-leading research carried out at UEA."
Dominic Christian, Chair of Sainsbury Centre board, said: "It with enormous pleasure and great warmth that we are delighted to welcome Jago as the new Director of the Sainsbury Centre. He is truly an outstanding talent."
---
Stories from the Sainsbury Centre: Art Fund Film
We are delighted to have been featured in a new film by Art Fund, as part of their Art Pass Recommends series and narrated by comedian Josie Long.
Discover our collections from the people who know them best: our staff and volunteers. They pick their personal favourites and share the intriguing stories of why these objects fascinate them.
---
Sainsbury Centre receives Culture Recovery Grant
The Sainsbury Centre has received funding from DCMS, as part of the government's Culture Recovery Fund administered by Arts Council England. The Centre has been awarded a grant of £305,725 to support core operational costs and the delivery of arts and learning provision for our many communities. The Centre aims to widen access to the arts, and much of our programme is free. During lockdown, the Sculpture Park has provided a vital civic amenity for all ages, and this grant enables us to continue to develop the Park with projects for the summer and beyond.
The Sainsbury Centre will use this opportunity to promote our post-Covid offer this spring and summer, supporting free-to-access audience engagement and bringing visitors back to the Centre for an inspiring programme of exhibitions and events. We are here for you and #HereForCulture.
Ghislaine Wood, Acting Director of the Sainsbury Centre said: "We are delighted that the Sainsbury Centre has been awarded this grant, which will enable us to deliver a vibrant programme of events, exhibitions, digital projects and Sculpture Park initiatives over the summer. The Centre, like many arts organisations, has been severely impacted by the pandemic, and this funding will help alleviate financial pressures, and enable us to move forward on a sustainable basis."
---
Anti-Racism Statement
The Sainsbury Centre is committed to addressing racism in all areas of our activity. The Centre was founded in 1978 to house, in equality, collections from around the world and to develop research into diverse cultures. We are committed to extending this founding mission.
We aim to become a more inclusive organisation whose collections, programming, learning activities, digital engagement and research is relevant to contemporary ethnic minority audiences both in the region and beyond. We aim to promote scholarship that explores the significance of race, gender and class, and to actively ensure that diversity and equality are key principles of the institution.
We aim to be a more inclusive organisation through our governance, staffing, artist community, visitors, members, patrons and online followers.
Actions:
– Develop and support an anti-racism working group to make recommendations to the Executive and Board.
– Ensure all areas of activity from our exhibitions, displays, research, fellowships, residencies, learning and digital engagement are diverse and inclusive.
– Continue to work on publishing provenance information for all objects in the collection.
– Work with groups in the community to develop projects for diverse audiences.
– Develop a policy on Restitution.
– Work with colleagues across the University towards decolonising the institution, its collection and programmes.
– Continue to diversify the collection through acquisition.
– Diversify our Board and work force.
– Support ethnic minority career progression through internships and other opportunities.
– Introduce Anti-Racism training.
---
MBE for Board Member
Congratulations from all of us at the Sainsbury Centre to our wonderful Board Member Laura McGillivray, on receiving an MBE in the Queen's Birthday Honours List for services to local government. Laura served as Chief Executive of Norwich City Council for 14 years, before standing down last year. She is one of our longest serving board members, and has supported us unfailingly over the years. Her expertise and enthusiasm has been vital to the Centre's strategic direction over the last decade.