Museum Late curated by artist Harold Offeh
Thursday 10 November
6-8pm
FREE, booking essential
Meet at Gallery Reception
Of Mythic Worlds is an evening of performance and music that explores contemporary Afrofuturism and its links to Ancient Egypt. The evening takes its title from Black American Jazz musician Sun Ra, drawing on his myth narrative that linked the black diaspora with Ancient Egypt by way of Saturn and outer space. Sun Ra like many mid-century African diaspora artists claimed Ancient Egypt as an African civilisation in the context of pan-African post-colonialism and civil rights movements.
Of Mythic Worlds draws on Afrofuturist traditions of speculative fictions and mythic narratives to present a programme of contemporary performance, music, and film. The event will further explore how, in a contemporary UK context, artists and creatives are responding to need to shape narratives and myths that draw from the past but that also challenge received and reductive archetypes. Audiences are invited to explore the generative power of imagining futures and future worlds.
Participating artists:
Divine Southgate-Smith
Joshua Woolford
i.as.in.we (Rohan Ayinde and Yewande Yoyo Odunubi)
Amy Nomvula
Set list:
6pm
Amy Nomvula – DJ Set
Divine Southgate-Smith – THICKER THAN WATER
A looped CGI animation sequence that explores water and sand
as materials that hold memory, and which creates a dream-like
suspension where time seeps into every crevice.
6.15pm   
Harold Offeh – Creating Patterns
A performance lecture drawing on black British histories of
Afrofuturism and using audio-visual sampling to explore pan
African post-colonial narratives' relationships to ancient Egypt.
6.45pm
Joshua Woolford – Molten Form: Assumed Identity 01
A series of provocations that takes the body as a site to reflect
upon the interconnections between varying forms of historical
and contemporary oppression, and their impact on our ability to
imagine otherwise.
7pm
 i.as.in.we – The Score(s): III
An embodied translation of a collaborative studying practice that
spans a multiplicity of b/Black geographies and spacetimes while
exploring the everyday experience of b/Black aliveness and the
desire to create structural change and imagine new worlds. Dive
into the "texts" explored in The Score(s): III here.
7.30pm
Amy Nomvula – DJ Set
8pm
Finish
About Harold Offeh
Harold Offeh is an artist working in a range of media including performance, video, photography, learning and social arts practice. Offeh is interested in the space created by the inhabiting or embodying of histories. He employs humour as a means to confront the viewer with historical narratives and contemporary culture. Find out more here.
This event is part of the Being Human festival, the UK's national festival of the humanities, taking place 10–19 November 2022. Led by the School of Advanced Study, University of London, with generous support from Research England, in partnership with the Arts and Humanities Research Council and the British Academy. For further information please see www.beinghumanfestival.org.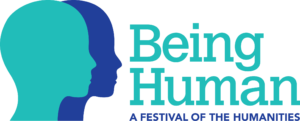 Image credit: Film still of Sun Ra in Space is the Place, 1974