Community projects-March23
The Sainsbury Centre Learning Team engages with our local communities in a broad range of creative activities inspired by our collections and our surroundings.
Over the last year, we have been supporting our community partners during lockdown by creating Art at Home packs for local families to make and explore together at home.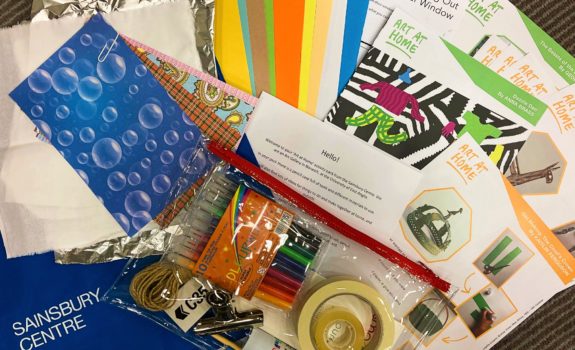 Our Art at Home packs contain all the essential tools for families to take part in creative activities
Get in touch with Liz Ballard,
Learning Programme Manager
(Children, Families and Communities):
e.ballard@uea.ac.uk

The Sainsbury Centre has teamed up with ArtatWork, an organisation based in Norwich who deliver art projects to promote wellbeing and good mental health. These art packs bring together suggestions for creative activities and some words of encouragement from the people at ArtatWork. The activities feature a variety of materials and techniques to promote creativity, relaxation and inspiration.
Download our Art at Home pack here.
These wellbeing activities have also inspired a project with St Martins Housing Trust, a local charity supporting vulnerable adults who are homeless or at risk of homelessness by offering opportunities to develop the skills that will help them to live independently within the community. Together we are developing activities packs to support their creativity, wellbeing and relaxation for their group sessions.
READ MORE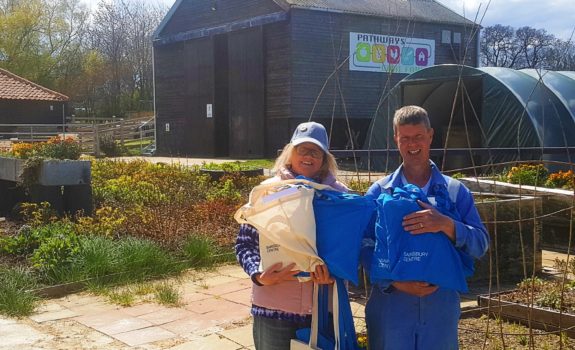 Pathways Care Farm receiving their packs
Get in touch with Liz Ballard,
Learning Programme Manager
(Children, Families and Communities):
e.ballard@uea.ac.uk
The Sculpture Park is an outdoor space full of fascinating art, architecture and nature. Explore the fields, woods and University of East Anglia Broad with children of all ages.
Alongside our general Sculpture Park map, Rose Feather has designed a new resource for families to use in the Sculpture Park. With a variety of different routes to help you find your way around the Sculpture Park, you can choose whether you'd like to take a short or long walk. During your expedition, you can take part in games along the way, try supersizing and super shrinking sculptures, create your own poses and have a go at making up your own names for the artworks that you see. There is also a handy list of facilities available on-site, including The Terrace and Modern Life cafes, toilets and where to park. Download our Sculpture Park Pocket Map here.
In collaboration with Cavell Court Care Home, we are developing audio tours of the Sculpture Park to be used in the summer. Keep visiting this page to find out more on this project coming soon!
READ MORE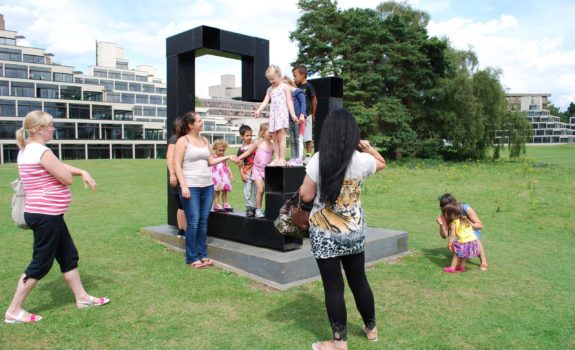 Get in touch with Liz Ballard,
Learning Programme Manager
(Children, Families and Communities):
e.ballard@uea.ac.uk
Africa: A Continent Reimagined
In 2019 we worked with Vasavi Koka at Diss High School on a project inspired by African art. Take a look at the fabulous art work made by year 8 and 9 students as a result of visiting the Sainsbury Collection, and our Magdalene Odundo exhibition here.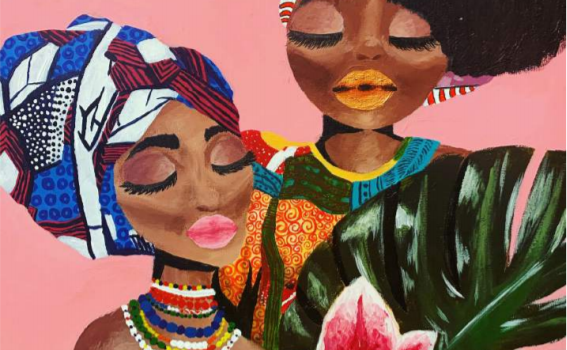 Get in touch with Liz Ballard,
Learning Programme Manager
(Children, Families and Communities):
e.ballard@uea.ac.uk
During the lockdown periods, we asked contemporary artists Hannelore Smith, James Metsoja, Ali Hewson and Rachel Kurdynowska to design activities and workshops to support the creativity and wellbeing of University of East Anglia and Norwich University of the Arts students on and off campus.
The workshops, which were accessible from home, included a series of online prompts, films and zoom sessions with artists. The Sainsbury Centre provided material packs to support the sessions enabling the students to get the most out of the activities.
Look back through our archive for creative prompts and video tutorials here.
Campus is generously supported by Art Fund and The Norwich Freeman's Charity.
READ MORE
The Suitcase – A UEA Refugee Week Project
3-10 March 2023
This interactive exhibition invites you to find five exhibits located across UEA campus, each based around the concept of luggage, loss and hope.
The Suitcase is an art installation devised and created by six sanctuary seekers from five different countries to explore the concepts of belonging, forced migration and hope. The idea for the exhibition came to Ukrainian scholar Ana Petrenko as she joined a crowd of people having to abandon their suitcases as they fled from Russian invasion. The innovative installations, which include video stories, will encourage viewers to consider the realities of forced migration.
Watch the short films created for the installation here:
'The Suitcase is a representation of what we have had to leave behind, all the sacrifices we have made while trying to survive. A breath-taking mixture of hope and despair.' Ana Petrenko
All short films were created by Red 7 Productions
University Of Sanctuary
The Sainsbury Centre has been working with the UEA University of Sanctuary team. We support them in their work to provide a welcome for people seeking sanctuary (asylum seekers and refugees). Our contributions have included creative artist-led workshops and social engagement opportunities, and practical help for staff and students with creative projects.
The Universities of Sanctuary initiative currently engages with sanctuary seekers, and the wider university and local community in multiple activities. Find out more here